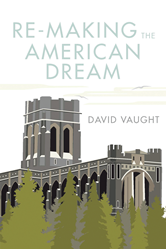 NAPERVILLE, Ill. (PRWEB) October 30, 2019
Author and West Point graduate David Vaught has released his debut book, "Re-Making the American Dream." Part personal memoir, part historical nonfiction, it charts the long, difficult struggle behind removing the school's compulsory chapel mandate and ensuring religious freedom prevailed in the military.
Despite his Baptist upbringing, Vaught was expected to attend mandatory services at West Point's Protestant chapel and was denied his request to attend a Baptist service off campus. Believing this rule violated the First Amendment and was inconsistent with the vow he made to uphold the Constitution, Vaught decided to challenge it.
For Vaught, the American Dream is derived from the culture of freedom and, as values change, this dream must be re-made. Though he sacrificed his military career by asserting his beliefs to those higher in command, Vaught was able to lay the groundwork for another student to bring the issue to federal court and provide a testimony that would result in the compulsory chapel attendance being ruled as unconstitutional.
"The American Dream is based on values, not just material advancement," Vaught said. "West Point is an important and valuable institution, and that's why I wanted to remedy this inconsistency and renew the American Dream."
A fascinating account of Vaught's determination to uphold religious freedom, "Re-Making the American Dream" demonstrates the power and impact of standing up for one's beliefs.
"Re-Making the American Dream"
By David Vaught
ISBN: 9781728326634 (softcover); 9781728326641 (hardcover); 9781728323091 (electronic)
Available from Amazon, Barnes & Noble and AuthorHouse
About the author
David Vaught is a 1969 graduate of the United States Military Academy at West Point, who took up the challenge to compulsory chapel in his last year as a cadet and twice as a witness in the federal court case that ended it. He later became active in Illinois politics, first supporting the reform campaign of Governor Dan Walker. He later served as Director of the Governor's Office of Management and Budget under Illinois Governor Pat Quinn during the Great Recession. He earned his J.D. from Southern Illinois University School of Law.
Review Copies & Interview Requests:
LAVIDGE – Phoenix
Leslie Standridge
480-998-2600 x 586
lstandridge(at)lavidge(dot)com