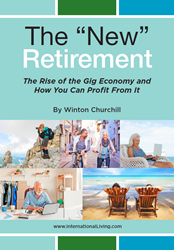 You can control your free time in a way that's almost impossible to do in a 9-to-5 world where you 'work for the man.'
BALTIMORE (PRWEB) May 26, 2020
In an era when so few people believe they'll be able to retire comfortably (or at all)—and the statistics bear that out—author Winton Churchill argues in his just-released book, The "New" Retirement: The Rise of the Gig Economy and How You Can Profit From It, that retirees can, in fact, wield more control over their situations than most realize.
"Lots of people believe they will simply have to take the retirement the world hands them (if they get one at all). But that's nonsense," says Churchill. "Baby boomers and GenXers have more online earning options right now than most realize.
"Most people point to what they've done in their careers as what they 'know how to do.'" Churchill argues. "But that's a myopic way to look at a skillset. In truth, people have more abilities, knowledge, experience, and wisdom than they realize.
"By earning a few hours a day (or a week) on your own terms—doing something you already know how to do, from the comfort of your home—you could fund a retirement that allows you to live 'life first.'"
Churchill argues in his book that retirees—with the technology available today—can use those strengths to earn a side income freelancing online from home and fund a comfortable, portable lifestyle that includes more fun than they ever thought possible.
From a retired teacher offering proofreading services to a retired receptionist answering phones remotely a few hours a day to a retired attorney giving business advice...the book is full of stories that show the varied ways people have taken what they know how to do and turned it into portable online income in retirement.
And older folks, Churchill argues, actually have an advantage earning as freelancers on the many job-and-project platforms available online today—platforms like Upwork, VIPKid, Cambly, or Arise, for instance.
"Boomers are seasoned," he explains. "They come to freelancing after a lifetime of earning in other ways. They have practice completing work on time and meeting project goals. They communicate effectively in both writing and speaking. They have a depth of knowledge—and life experience—that they can bring to their subject areas. These attributes make them valuable freelancers."
In The "New" Retirement: The Rise of the Gig Economy and How You Can Profit From It, Churchill introduces the reader to the world of freelance opportunities online, explains how to identify skills that are marketable, breaks down the keys to getting started fast, and explores the insider tricks for turning one-off assignments into regular, lucrative gigs.
What's more, the book is packed with useful resources and guidance for getting the most out of a portable income—and teaches readers the best ways to design a portable life, which can provide the freedom and flexibility to travel (and even live) abroad for extended periods.
"When you earn like this, you're better able to blend and prioritize your interests, your family, and your passions," Churchill says. "You can control your free time in a way that's almost impossible to do in a 9-to-5 world where you 'work for the man.'
Inside The "New" Retirement: The Rise of the Gig Economy and How You Can Profit From It, readers will discover—

22 questions to answer that'll expose the income-earning skills a reader has, but may not realize are monetizable and available to them.
23 one-click online resources most people have never heard of where, at the simple click of a mouse, they can source paying clients looking to pay people to do all sorts of things.
4 essential apps that make a portable income simple to manage—so freelancers always have what they need at their fingertips, it's a cinch to keep track of projects, and it's possible to earn from anywhere—no high-tech skills required.
3 "portable-income enablers"—free tools to parlay a go-anywhere income into a go-anywhere life and earn with ease on the road.
The vacation-rental strategy that makes it easier to book the right place at the right price—with special consideration for older travelers.
8 cool, free resources that connect freelancers around the world.
Revealing, real-world examples that show readers exactly how a bunch of people from different backgrounds took their "careers" and translated their skills and experiences online.
How (specifically and truly step-by-step) it's possible to find clients today.
More information on The "New" Retirement: The Rise of the Gig Economy and How You Can Profit From It, including a Q&A with the author, can be found: The "New" Retirement: The Rise of the Gig Economy and How You Can Profit From It
Author Winton Churchill is the founder of the Churchill Method, an international training and consulting company. His firm helps clients find ways to put their skills, services, products, and career experience on the global market by tapping into the 30% to 70% of opportunity most U.S.-only and Canada-only businesses and individuals leave on the table.
"By taking charge of their earning power, rather than waiting for governments, financial institutions, and employers to 'right themselves,' the baby boomer generation now has the power and access to put their skills and abilities on the global market regardless of where they live or work," says Winton.
In addition to consulting, Winton has written and lectured on a broad range of career and internet sales and marketing topics. His opinions are frequently quoted in a variety of publications including The Wall Street Journal, Entrepreneur Magazine, Marketing Sherpa, Inc. Magazine, SoftwareCEO, Sales & Marketing Management, Fox News, and a number of industry-related business, internet, and software-related publications. He is the author of the bestselling book Email Marketing for Complex Sales Cycles (Morgan James Publishing).
Prior to the founding of his own firm, Winton has been involved in a variety of senior sales, marketing, and management roles for Apple Computer, Oracle Corporation, Spinnaker, Contact Software (ACT!), and Sun Microsystems.
Winton is past President of the South Bay Association of Chambers of Commerce. The SBACC serves 18 Chambers and more than 53,000 businesses in coastal Southern California. In 2007, Winton made Huatulco, Mexico his primary residence and divides his time between Huatulco and San Miguel de Allende.
Members of the media have permission to republish the article linked above once credit is given to Internationalliving.com
Further information, as well as interviews with Winton Churchill for radio, TV or print, is available on request. Photos are also available.
For information about InternationalLiving.com content republishing, source material or to book an interview with one of our experts, contact PR Managing Editor, Marita Kelly, +001 667 312 3532, mkelly@internationalliving.com
Twitter: @inliving
Facebook: https://www.facebook.com/International.Living/
About International Living
Since 1979, InternationalLiving.com has been the leading authority for anyone looking for global retirement or relocation opportunities. Through its monthly magazine and related e-letters, extensive website, podcasts, online bookstore, and events held around the world, InternationalLiving.com provides information and services to help its readers live better, travel farther, have more fun, save more money, and find better business opportunities when they expand their world beyond their own shores. InternationalLiving.com has contributors traveling the globe, investigating the best opportunities for travel, retirement, real estate, and investment.