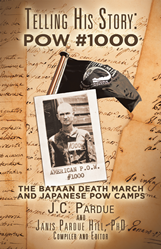 HOMER, La. (PRWEB) February 28, 2023
J.C. Pardue was one of the survivors of the Bataan Death March and several of the most brutal prisoner of war camps in Japan during World War II. He carried and wrote about those experiences for the rest of his life. His daughter, Janis Pardue Hill, Ph.D., compiled those essays, journals, and other writings about her father's experiences, as well as personal interviews with her father, in her new book, "Telling His Story: POW #1000: The Bataan Death March and Japanese POW Camps."
J.C. Pardue graduated from high school during the Great Depression, and enlisted, in 1939, with the United States Army Air Corps. By 1941 he was being deployed to the Philippines. After arriving at the Bataan Peninsula and facing Japanese forces, he was taken as a prisoner of war (POW) after U.S. forces surrendered and forced to embark on the Bataan Death March.
"Not enough people are aware of the atrocities veterans suffered during the Bataan Death March," Hill said. "They witnessed the brutality of the Japanese guards as they bayonetted, shot, beheaded, or buried alive any who fell."
Most prominent among her father's memories was the miracle of his Bible. Surviving a direct hit from a fragmentation bomb, confiscation in a POW camp, and disposal on a Hell Ship (a term used to describe a ship with extremely inhumane living conditions or a reputation for cruelty in WWII), his Bible always returned. His most treasured possession, it made it home to the states with him. He attributed his survival to the faith acquired and absorbed from the weapon he considered the most valuable of all—his Bible.
"His faith is what saved him," Hill said. "It gave him the hope and strength to go on while living in POW camps and working and being forced to do slave labor."
Hill's goal is to share her father's story to honor her father and to help educate readers about a dark chapter in United States history.
"Telling His Story: POW #1000: The Bataan Death March and Japanese POW Camps"
By Janis Pardue Hill PhD
ISBN: 9781489742278 (softcover); 9781489742285 (hardcover); 9781489742261 (electronic)
Available at LifeRich Publishing, Amazon and Barnes & Noble
About the author
Janis Pardue Hill, a retired university professor and lifelong educator, holds a Ph.D. in Curriculum Theory from Louisiana State University (LSU), a masters in literature from Louisiana Tech University, and a bachelors in English education from the University of Louisiana Monroe. She has taught in university and high school classrooms, served as a Program Coordinator in the Louisiana Department of Education, and worked as a Curriculum Coordinator in the Ouachita Parish School System. Hill and her husband, Charles A. Hill, Jr., live in North Louisiana.
General Inquiries:
LAVIDGE – Phoenix
Ashley Fletcher
afletcher@lavidge.com