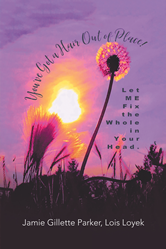 BLUFFTON, Alberta (PRWEB) April 20, 2021
For decades, lifestyle designer and emotional empowerment coach Lois Loyek has helped clients free themselves from self-limiting beliefs, find healing from sexual abuse and trauma, and make the transformative shift from living in fear to living in love. In her new book, "You've Got a Hair Out of Place!: Let me FIX the Whole in Your Head," Loyek extends her valuable tools and enriching knowledge to guide readers toward self-love and the infinite possibilities it brings.
"You've Got a Hair Out of Place!" follows the fictionalized story of Loyek's co-author and alter-ego, Jamie Gillette Parker, or Petra as she is called by her family. Jamie is a sensitive and artistic spirit whose desires and values often clash with the world around her. Despite the constraints of generational, familial and social beliefs and the trauma she experiences, Jamie manages to tap into her inner power, create a compelling future for herself and cultivate a community of like-minded individuals dedicated to pursuing love.
"I am already enchanted with the characters introduced and find the unique way the author has intertwined fiction and life-coaching knowledge with personal experiences very intriguing," wrote T. F., a human services worker and adult survivor of childhood sexual abuse. "I look forward to the next chapter in the journey."
"You've Got a Hair Out of Place!," draws from Loyek's experiences in both life and work and incorporates her tried-and-true strategies for processing and healing from trauma. Through her book, she hopes to provide encouragement to those struggling to repair emotional wounds and show readers that it is possible to move forward and live a fulfilling life.
"'You've Got a Hair Out of Place!' is a concept that has been with me in many forms for more than 20 years," said Loyek. "It started as a self-help book to show us how much of the limiting voices in our head are not ours to own, and that we must let them go to who they belong to in our history. It has since expanded into a novel about the importance of surrendering fear and opening up to the eternal love from within. After trauma, your best life is waiting."
"You've Got a Hair Out of Place!: Let me FIX the Whole in Your Head."
By Jamie Gillette Parker, Lois Loyek
ISBN: 9781982264451 (softcover); 9781982264475 (hardcover); 9781982264468 (electronic)
Available from Amazon, Barnes & Noble and Balboa Press
About the authors
Jamie Gillette Parker is the protagonist of "You've Got a Hair Out of Place!: Let me FIX the Whole in Your Head." and the alter-ego of Lois Loyek. Challenged by multiple medical issues at 28, Loyek has spent decades learning and putting into practice all that enables wellness. She holds multiple certifications, including vita flex massage, nutrition consulting and colon hydrotherapy. In 2000, she became a certified life coach, focusing on empowering clients' emotional flexibility and moving them into the magnitude of possibility. Loyek currently lives in Alberta, Canada, with her husband of 54 years. To learn more, please visit loisloyek.com or connect with Loyek on Facebook and LinkedIn.
Review Copies & Interview Requests:
LAVIDGE – Phoenix
480-998-2600 x 586
lstandridge(at)lavidge(dot)com