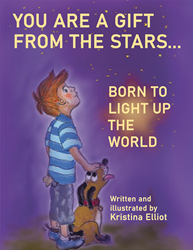 ORADELL, N.J. (PRWEB) February 07, 2023
With the release of her second book, author Kristina Elliot wants to help children understand their own special talents in her newest book, "You Are a Gift from the Stars…Born to Light up the World."
In her book, Elliot discusses how some children are gifted in different ways. They may be exceptionally bright, but misunderstood, leading to them being labeled as "unusual" or "odd". These children are what Elliot refers to as "starseeds."
"I want to educate both children and parents about the far-reaching, yet little known starseed phenomenon," Elliot said. "It could explain why so many of today's children may be wise beyond their years, yet lonely; highly gifted, but misunderstood."
"You Are a Gift from the Stars…Born to Light up the World" explains that starseeds are humans who have lived other lives in distant star systems. Elliot believes that the soul connection to a previous life could be why starseeds on earth may feel a little weird, as it could be their first life on Earth.
"This book is a direct result of my own spiritual awakening," Elliot said. "It has since resulted in a deeper understanding of our galactic connections, and how they have shaped human history. I want to help starseeds understand themselves so they can lead us out of darkness, into the brightest future we could ever imagine."
Elliot wants to encourage starseeds to celebrate their uniqueness, and understand that, though they may feel lost, the universe is cheering them on.
"You Are a Gift from the Stars…Born to Light up the World"
By Kristina Elliot
ISBN: 9798765235874 (softcover); 9798765235898 (electronic)
Available at Balboa Press, Amazon and Barnes & Noble
About the author
Kristina Elliot enjoyed a 30-year career as an advertising copywriter at several prestigious New York ad agencies before following her passion to write and illustrate children's books. She has previously published another children's book, "We All Have a Superpower." She lives in Oradell, N.J. with her family. To learn more, please visit http://www.giftfromthestars.com.
General Inquiries:
LAVIDGE – Phoenix
Ashley Fletcher
afletcher@lavidge.com