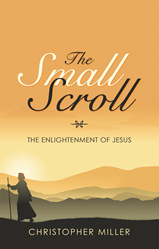 "In a world that is riddled with disagreement, there are eternal truths presented in the Bible," Miller said. "With 'The Small Scroll,' I want to spread the word of these truths and allow readers to discover what a spiritual life is."
VICTORIA, British Columbia (PRWEB) April 13, 2020
In the Bible, the life of Jesus Christ is depicted through the eyes of various prophets. Author Christopher Miller wrote the reflective, jewel of a book, "The Small Scroll: The Enlightenment of Jesus," that follows the life of Jesus Christ from His perspective and unveils the simple, but eternal, truths of faith.
Written as a descriptive narrative, Miller weaves scripture and Jesus' stream of consciousness as he navigates the world as a human and fulfills his destiny. "The Small Scroll" portrays Jesus' human experience by demonstrating how He consistently faced hardship, and through meditation and internal knowledge that He was the Son of God, was able to rise above as the Savior.
"In a world that is riddled with disagreement, there are eternal truths presented in the Bible," Miller said. "With 'The Small Scroll,' I want to spread the word of these truths and allow readers to discover what a spiritual life is."
"The Small Scroll" features timeless lessons from Jesus that transcend past Biblical times and into modern day. Readers, who may be questioning their own destiny, will be able to relate to Jesus' journey of accepting that he is the Savior. Because this book illustrates the life of Jesus from a first-person perspective, readers can feel a one-on-one connection with this character and, in turn, with Jesus Christ.
"The Small Scroll" has received both the Editor's Choice and Rising Star awards from iUniverse. Also, it was recommended by US Review:
"The descriptions of the resurrection from the dead and ascending to heaven may provoke thoughts of what it might be like at one's own demise," said The US Review of Books. "Miller has produced a masterful tale as well as an argument for Christianity."
"The Small Scroll: The Enlightenment of Jesus"
By Christopher Miller
ISBN: 978-1-5320-6119-6 (softcover); 978-1-5320-9167-4 (hardcover); 978-1-5320-6120-2 (electronic)
Available at the iUniverse Online Bookstore, Amazon and Barnes & Noble.
About the author
Christian author Christopher Miller found his faith with he was 35 years old. In the Christian faith, he found the logical, intellectually based religion he was looking for. He previously worked as a bank manager and operated a mortgage company before retiring in 1996. Currently, he resides in Victoria, British Columbia with his wife. To learn more about Miller and his book, please visit http://thesmallscroll.com/.
For Interview Requests & Review Copies, Please Contact:
LAVIDGE – Phoenix
Krista Tillman
480-648-7560
ktillman@lavidge.com
###