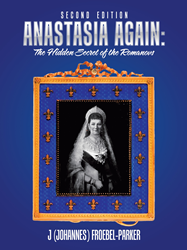 "My hope is to increase awareness about Evgenia Smetisko, who claimed to be Grand Duchess Anastasia Romanov," said Froebel-Parker. "I want readers to question sacrosanct narratives and to come to their own conclusions about the fate of this woman."
SELKIRK, N.Y. (PRWEB) December 16, 2022
Historical accounts claim Anastasia Romanov, daughter of Czar Nicholas II, was killed, along with her family, after a Bolshevik firing squad invaded their home.
In "Anastasia Again: The Hidden Secret of the Romanovs," by J (Johannes) Froebel-Parker, readers are provided a biographical look at what happened to the youngest daughter, Anastasia, after the Romanov family's execution in 1918. By reading memoirs of U.S. immigrant, Evgenia Smetisko, and examining facial recognition images by expert Robert Schmitt, Froebel-Parker builds a strong case for the two women being one in the same.
"The comparison of the faces is one of the most accurate I have seen, especially considering the difference in ages," said Schmitt. "There is little doubt it's the same person."
Readers may join the quest to correct this historical narrative and provide justice to a woman who lived a dual reality many dismissed. Certainly, the mystery will continue but with more evidence presented on each page, a conclusion may not be far away.
"My hope is to increase awareness about Evgenia Smetisko, who claimed to be Grand Duchess Anastasia Romanov," said Froebel-Parker. "I want readers to question sacrosanct narratives and to come to their own conclusions about the fate of this woman."
"Anastasia Again: The Hidden Secret of the Romanovs"
By J (Johannes) Froebel-Parker
ISBN: 9781728360058 (softcover); 9781728360041 (electronic)
Available at AuthorHouse, Amazon and Barnes & Noble
About the author
J (Johannes) Froebel-Parker earned a bachelor's degree and master's degree in German language and literature as well as a master's in education from the University at Albany. Parker taught English as a Second Language for almost three decades in upstate New York. Previously, he taught English as a Foreign Language for one year at the Marie Curie Oberschule, in former West Berlin, in an academic exchange program sponsored by Akademischer Austauschdienst. From the earliest age he was captivated by the stories of his maternal and paternal grandparents, who shared with him their oral histories from both sides of the Atlantic. To learn more, please visit https://www.authorhouse.com/en/bookstore/bookdetails/811856-anastasia-again-the-hidden-secret-of-the-romanovs.