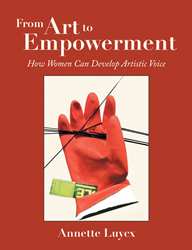 "My book will teach women how to use writing and visualizing for art-making. It provides a method to guide women to find their unique personal artistic expression by going on a journey into their inner world."
ATHENS, Greece (PRWEB) March 09, 2020
Art comes with so many different elements that define an artist. In Annette Luycx's debut book, "From Art to Empowerment: How Women Can Develop Artistic Voice," the author introduces a new do it yourself workshop for women to be empowered by the art they create. Luycx teaches women twelve dimensions of artistic expression from personal narrative to final exhibition. With plenty of practical exercises, this workbook guides women in developing self-awareness and personal power through making art.
Luycx's book follows three different women whose first-hand experiences form an example of what the practical process of developing artistic voice in three months can look like. Readers will experience these women's stories through every session in the workbook and see their colorful artwork, the book provides 50 color illustrations. The audience will get a glimpse into the challenges, concerns and the impact that the workshop had on their identity as they learned to trust their own life experiences as sources of inspired art-making.
"I wrote the book because I wanted to provide a method for teaching art to women that would empower them," said Luycx. "My goal is that many women will use my method to make art that is meaningful to them and get self-knowledge. My book will teach women how to use writing and visualizing for art-making. It provides a method to guide women to find their unique personal artistic expression by going on a journey into their inner world."
"From Art to Empowerment" is an inspiring workbook that shows women that making art is a transformative experience when they use their personal life experiences for the art they create. The book will encourage readers to find their artistic voice through self-discovery and become empowered.
"From Art to Empowerment: How Women Can Develop Artistic Voice"
By Annette Luycx
ISBN: 978-1-4808-8496-0 (softcover); 978-1-4808-8497-7 (eBook)
Available at the Archway Publishing Online Bookstore, Amazon and Barnes & Noble
About the Author
Annette Luycx, MEd, MSc, is an artist and freelance art educator from the Netherlands living and working in Greece. She has taught collage, mixed media and ceramics in Athens for the past twenty years at schools and cultural centers. Luycx is specialized in artistic coaching and artistic talent development. The purpose of her teaching practice is to support artists, art students and creatives in gaining increased self-awareness and understanding of their creative process, as well as to promote artistic growth and the development of their artistic voice. She has been studying and exploring the link between artistic expression and self-awareness in the visual arts, dance and theater her whole life. In 2014, Luycx created the IRIS ART CENTRE, a center for adult art education specialized in the development of personal artistic voice. Here, she organizes summer art workshops and artist coaching residencies, in the Greek countryside about twenty miles north from the center of Athens. To view more information, please visit http://www.irisartcentre.com.
Luycx holds a master's degree in sociology and women's studies from the University of Amsterdam, a postdoctoral degree in cultural management from Paris Dauphine University, and a master's degree in art education from the Maryland Institute College of Art (MICA). Annette has traveled extensively and studied fine arts, theater, and ceramics with international artists and art educators. She has participated with collages, photomontages, prints, and ceramics in group exhibitions in Amsterdam, Athens, Boston, Baltimore, Edinburgh, Salzburg, Prague and Paris. To view more information, please visit http://www.annetteluycx.com.
General Inquiries:
LAVIDGE – Phoenix
Grace Bywater
480-648-7534
gbywater(at)lavidge(dot)com