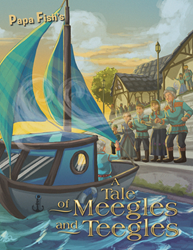 SAYREVILLE, N.J. (PRWEB) January 14, 2019
In his debut book, "A Tale of Meegles and Teegles," Papa Fish creatively and rhythmically writes about fear of the unknown and the importance of dealing with that fear.
"A Tale of Meegles and Teegles" tells the story of the Teegles and Meegles, who live respectively in the countries of Teegle and Meegle. The Teegles believe that the Meegles are mean and nasty and that they are planning to invade Teegle this very year!
This fear is based only on tales told through the ages and all Teegles are frightened, although no Teegle has ever seen a Meegle and no such invasion has ever occurred. Will the Meegles invade the country of Teegle? What happens will forever change the lives of all Meegles and Teegles.
"The fear that the Teegles display of the Meegles, which is not based on fact or knowledge, represents a great lesson for many, especially children," Papa Fish said. "It can even be a great lesson for parents and teachers, as in today's world, communication, understanding, and information is vital to abate unnecessary fear."
In "A Tale of Meegles and Teegles," readers can enjoy the book's playful rhymes and poetic verses as they learn not to be afraid of what they don't know.
"A Tale of Meegles and Teegles"
By: Papa Fish
ISBN: 978-1-5320-4456-4 (sc); 978-1-5320-4457-1 (e)
About the Author
Papa Fish is a retired lawyer who discovered he would much rather write books for children than contracts for clients. His seven grandchildren have experienced his sense of humor and been quizzed time and again with his silly riddles. He might ask you which state is the cleanest or which city tells everyone what to do. He splits his time between New Jersey and Florida, and he misses the golf ball in both states. All his imagination and childlike enthusiasm have been poured into "A Tale of Meegles and Teegles." To learn more, please visit http://www.papafish.org.
General Inquires:
LAVIDGE – Phoenix
Bryan Beach
480-306-6554
bbeach@lavidge.com