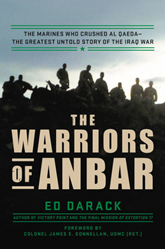 "A very human story of "bravery, sacrifice, incredible hardship, horror, and ultimate victory." -KIRKUS REVIEWS
NEW YORK (PRWEB) October 31, 2019
Unlike much of the coverage of the war in Iraq, "THE WARRIORS OF ANBAR: The Marines Who Defeated Al Qaeda—The Greatest Untold Story of the Iraq War" (November 5, 2019; Da Capo) recounts a story of victory over seemingly insurmountable odds.
Author, military journalist and photographer Ed Darack embedded with US forces four times in Afghanistan and twice in Iraq, where he did the field work for THE WARRIORS OF ANBAR.
WARRIORS OF ANBAR begins with dangerously high-stakes. When the 2nd Battalion of the 3rd Marine Regiment ("2/3") arrived in the little-known "Haditha Triad" region of western Iraq's Al Anbar Province in September of 2006, the region had just exploded in a storm of terrorist violence. Just over a year prior to the arrival of the 2/3 battalion, Al Qaeda inflicted the greatest loss of life on an American military unit since the 1983 Beirut Bombings: the slaughter of 48 members of the 3rd Battalion of the 25th Marine Regiment.
The most battle-hardened of Al Qaeda had fled to the Triad. Taking their last, desperate gasps for survival after years of bloody war, they lashed out at the battalion with everything they could muster. The Marines sent into this firestorm of violence immediately lunged into a complex, double-edged mission: crush Al Qaeda and help the locals rebuild their terrorist-smashed lives and homes.
Al Qaeda fought an unimaginably brutal war - they even used innocent children as weapons, loading up backpacks with remotely triggered explosives and sending them off on bicycles to ride past patrolling Marines.
After months of grueling, fearsome battle—and the loss of twenty-three of their ranks—the warriors of 2/3 stood tall in victory.
"This is the story of one corner of the war in Iraq. It is the story of Marines, supported by service members from all branches, making progress against incredible odds. It contains inspiring examples of what our nation's young warriors are capable of—despite a mission that was politically unpopular, strategically questionable and tactfully difficult to the extreme," said Veteran Colonel Donnellan, 2/3's battalion commander during the Iraq deployment.
THE WARRIORS OF ANBAR chronicles one of the greatest untold stories of modern war—one of dogged grit, incredible courage, and supreme sacrifice. It will be released during the month of the 244th birthday of the Marine Corps, and is available wherever books are sold on November 5, 2019.
ABOUT THE AUTHOR: Ed Darack is the author of six previous books, including the critically acclaimed Victory Point about Operations Red Wings and Whalers, and The Final Mission of Extortion 17, the story behind the single deadliest day for US troops in the War in Afghanistan. Darack is the author of hundreds of feature articles on a broad spectrum of topics for publications including the New York Times Magazine, Newsweek, Smithsonian's Air & Space, Leatherneck, Marine Corps Gazette, Proceedings of the United States Naval Institute, Foreign Policy, Weatherwise, and many others.