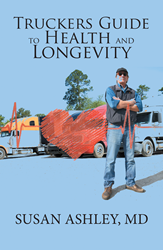 LIBERTY LAKE, Wash. (PRWEB) November 05, 2018
Truck driving is one of the most dangerous occupations in the country. With stroke, obesity, sleep apnea, heart disease and more health problems facing truckers from a life on the road, one doctor and author is looking to improve the lives of a class of employees that are crucial to society's functioning but often forgotten—truck drivers.
"Truckers Guide to Health and Longevity," is a unique and informative guidebook for truckers in helping to reverse or eliminate common health symptoms that occur from a life on the road.
Approached from an integrative medicine standpoint, the book includes health aspects such as which supplements are best for prevention and reversal of disease, proper exercise routines to reduce fat, gain muscle, and improve metabolism and common medical misconceptions.
The book ultimately aims to help show truckers how to pass the required Department of Transportation test every year to keep them healthy and on the road—to longer and healthier living. Though the book is geared toward professionals in the trucking industry, the information can also apply to anyone with a sedentary job or lifestyle who is looking for a change.
"I perform these tests for truck drivers in my medical practice and have seen first-hand the health problems in the trucking industry," Ashley said. "I couldn't find a book or guide that addressed these problems in a complete way and truckers often don't know where to turn for help, so I created one."
With "Truckers Guide to Health and Longevity," truck drivers can live a longer and healthier life—on the road and off.
"Truckers Guide to Health and Longevity"
By: Susan Ashley, MD
ISBN: 978-1-9845-1835-4 (hc); 978-1-9845-1836-1 (sc); 978-1-9845-1837-8 (e)
Available at the Xlibris Publishing Online Bookstore, Barnes and Noble and Amazon
About the Author
Susan Ashley, MD has been practicing medicine for 26 years and owns two practices, Family Medicine Liberty Lake and Healthy Living Liberty Lake. She is board certified in both family medicine and in anti-aging and regenerative medicine. Dr. Ashley attended medical school at the University of Texas in Houston and is a former flight surgeon in USAFR and served medical missions to Nairobi, Kenya and Ukraine. For more about the author and her book, please visit: https://www.truckersguidetohealth.com/.
Review Copies & Interview Requests:
LAVIDGE – Phoenix
Maggie Driver
480-998-2600 ext. 584
mdriver(at)lavidge(dot)com
General Inquiries
LAVIDGE – Phoenix
Danielle Grobmeier
480-998-2600 ext. 557
dgrobmeier(at)lavidge(dot)com
# # #