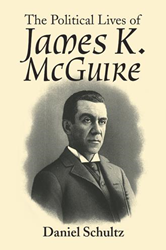 SYRACUSE, N.Y. (PRWEB) October 01, 2019
An often overlooked Irish political figure is the focus of Dan Schultz's new book, "The Political Lives of James K. McGuire" (published by AuthorHouse). It reviews the life of James K. McGuire, youngest elected mayor of Syracuse, New York, his role as lobbyist for the Asphalt Trust and his contributions as an activist in the fight for Irish freedom. Schultz, a retired professor, was introduced to McGuire while teaching a seminar on imperialism. Ireland was a case study and it included information on Irish-American support for its independence.
"The book explores issues of domestic political reform, trusts, political corruption and international intrigue as it examines the interface of McGuire's 'lives'," Schultz says.
McGuire's run on the political scene began as a populist reformer. However, he became tainted by the use and abuse of power he sought to use in the name of public good leading to two indictments as mayor and an investigation by the Department of Justice during World War I involving his role as a propagandist for the German Imperial government. He was at one time a major player in Democratic Party politics at the state and national level, having connections to such national figures as Woodrow Wilson, Secretary of State William Jennings Bryan and Tammany Boss Charles Murphy. His was a ranking member in the cause of Irish freedom familiar with such prominent Irish Nationalists as John Devoy, Daniel Cohalan, Eamon De Valera and Harry Boland. McGuire's story, although now a century old, has a familiar ring to contemporary American politics. To purchase the book, visit https://www.amazon.com/Political-Lives-James-K-McGuire/dp/1546260862
"The Political Lives of James K. McGuire"
By Daniel Schultz
Hardcover | 6x9 in | 594 pages | ISBN 9781546260875
Softcover | 6x9 in | 594 pages | ISBN 9781546260868
E-Book | 594 pages | ISBN 9781546260882
Available at Amazon and Barnes & Noble
About the Author
Daniel Schultz is a retired faculty member from Cayuga Community College in Auburn, New York. He has presented papers at various professional organizations and his writings have appeared in numerous scholarly journals. Schultz has been awarded both the Chancellor's Award for Excellence in Teaching and the Chancellor's Award for Scholarship.