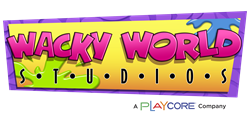 Wacky World Studios recently announced the launch of its new corporate brand identity, redesigned logo, and website, following Wacky World's acquisition by PlayCore.
TAMPA, Fla. (PRWEB) May 18, 2021
Wacky World, a leading provider of indoor themed environments, recently announced the launch of its new corporate brand identity, redesigned logo, and website. These changes come following Wacky World's acquisition by PlayCore, which has provided an opportunity to accelerate the evolution of the brand's products, service offerings, and customer reach. Wacky World Studios is an innovator in creating one-of-a-kind themed children's environments in churches. Since its inception, they have expanded into additional industries, including heath care, museums, restaurants, residential, and more.
Designed to work effortlessly across digital and physical channels, the new logo set evokes a feeling of fresh inspiration and fun, while retaining the heritage font from the previous iteration. The cleaner design employs a more unified look with PlayCore's other brands but includes Wacky World's colors and signature splats that its customers are accustomed to seeing.
Wacky World's new website offers simple navigation and an exciting journey through imaginative product offerings, services, and possibilities. The website utilizes Wacky World's traditional bright colors but on a clean white background and a simple top menu structure. The new website highlights the industries Wacky World serves as well as the product types they offer and a variety of vibrant past work that can be sorted by theme or industry to easily find specific project examples. As their slogan says, "If you can dream it, we can theme it."
About PlayCore
PlayCore helps build stronger communities around the world by advancing play through research, education, and partnerships. The company infuses this learning into its complete family of brands. PlayCore combines best-in-class planning and education programs with the most comprehensive array of recreation products available to create play solutions that match the unique needs of each community they serve. Learn more at http://www.playcore.com
About Wacky World Studios
Wacky World Studios has over four decades of experience creating some of the most exciting, engaging and imaginative spaces in the world, consistently pursuing innovative solutions to functional design, inspired by purpose. Their award-winning design team can transform ordinary spaces into fully-immersive, fun, family-friendly extraordinary atmospheres that will leave you speechless! Utilizing wall art, signs, 2D and 3D elements, multi-media and more, Wacky World strives to be your one-stop-shop, from concept to reality, delivering world-class interior one-of-a-kind design solutions that are both educational and inspirational. Learn more at http://www.wackyworldstudios.com.