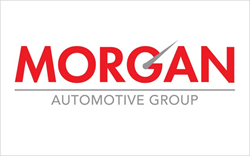 There is nothing more rewarding than building a business from the ground up. We know consumers have options and we will have to surpass consumer expectations to succeed. We plan on doing just that
TAMPA, Fla. (PRWEB) January 03, 2019
British luxury is now available to consumers in Ocala, Fl. Jaguar Land Rover Ocala is the latest dealership to be opened by the growing Morgan Auto Group, named one of the fastest growing retail automotive groups in the country by Automotive News. It is the group's first Jaguar Land Rover franchise across their roster of 34 franchised dealerships. The dealership will be managed by General Manager Paul Corbett.
"Not only are we thrilled to be able to represent the Jaguar and Land Rover brands, but we are proud to once again be a part of the sustained business growth within the Gainesville-Ocala region," said Morgan Auto Group CEO Brett Morgan.
The Morgan Auto Group operates six additional dealerships within Gainesville-Ocala, including Mercedes-Benz and Honda operations.
"We have built a first-class facility in a convenient location near I-75. And the goal is to provide additional options for consumers and a premium experience to our prospective guests in the region," offered Morgan Managing Partner Victor Young.
"In anticipation of this exciting opening, we have had General Manager Paul Corbett within our organization for over a year. He has been integral to every part of the planning process regarding Jaguar Land Rover Ocala," remarks Morgan COO Tom Moore. "Paul is a proven luxury leader with over 30 years of automotive experience."
Paul was most recently managing another luxury brand in the Jacksonville market.
"There is nothing more rewarding than building a business from the ground up. We know consumers have options and we will have to surpass consumer expectations to succeed. We plan on doing just that," said General Manager Paul Corbett.
Jaguar Land Rover Ocala is now serving customers from Ocala, Gainesville, Belleview, Wildwood, the Villages and beyond from their convenient location at 5830 Southwest College Road, just off I-75.
"We want the community to know that when you make it Morgan, we make it happen!"
About Morgan Auto Group
About Morgan Automotive Group | Morgan Auto Group is one of the largest, privately held automotive dealer groups in the nation, recently ranked in the top 50 by Automotive News. Through its 32 dealerships, the Tampa-based business offers 22 unique brands, from Honda to Lamborghini, with new, certified pre-owned, and quality used vehicles available for lease or purchase. These retail locations also sell car parts, service contracts, along with maintenance and repair services. The company's famous slogan, "When You Make It Morgan, We Make It Happen" is the basis for all customer service, branding, promotions, and other key operations at its 32 locations from Columbia, Missouri to Naples, Florida.