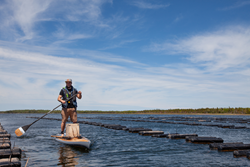 FREDERICTON, New Brunswick (PRWEB) February 20, 2020
Rather than a vacation filled with manic sightseeing and stressful to-do lists, more and more travelers today are slowing down to immerse themselves in a destination. The Atlantic Canada province of New Brunswick, located just north of the Maine border, offers several new experiences that allow travelers to connect with the food, community, and environment at their own relaxed pace.
Here's what's new in 2020:
Wilderness Dining
Savour the Caves – On the ocean floor at low tide, a local chef will prepare seasonal cuisine while telling stories about the culture and history of the area. The experience takes place at St. Martins Sea Caves, a section of the UNESCO Fundy Biosphere Reserve and Stonehammer UNESCO Global Geopark. Available July 6 and 7, August 3 and 4, 2020, starting at $425 CAD per person.
Cielo Oyster Experiences – In an eco-friendly exploration of Bay Saint-Simon located on the northeastern Acadian peninsula, guests will maneuver standup paddleboards to harvest, shuck, and cook oysters, while learning how to pair them with local products. The experience is available from June 21 through September 25, starting at $85 per person.
Explore By Foot
Nepisiguit Mi'gmaq Trail– The newly designated park offers a 90-mile hiking trail that follows the Nepisiguit River from the mountains of Mount Carleton Provincial Park in central New Brunswick to the ocean at Daly Point Nature Reserve in Bathurst, and is based on an ancient First Nations travel route. The park is open year-round, but ideal hiking conditions are available between June and October.
Wabanaki Tree Spirit Tour – Embark on a medicine walk through the old growth forest of Odell Park, joining Wabanaki medicine keepers to learn about the history of local plants and trees along with their use as Indigenous medicines, food and in ceremony. The tour is available year-round starting at $200 for four people. A lunch of Three Sisters Soup and Acorn Corn Bread, made with leached acorns and locally grown ancient flint corn, is available for an additional $25 per person after the tour.
Moncton Street Art Mural Walking Tour – The city of Moncton boasts over 32 large-scale contemporary murals from local and international artists, creating an outdoor gallery of street art. Travelers are guided by a curator to learn about these hidden gems on a 1.5-hour walking tour. Available on Saturdays and Sundays starting at $25 CAD per person.
Immersive History
Le Pays de la Sagouine – In a theatrical glimpse into Acadian history, actors and bilingual staff work and live in a 19th century town, allowing guests to visit and explore the music and food of the French settlers' descendants that occupied the northeastern region of North America. Performances are available throughout 2020; find a full calendar at https://www.sagouine.com/en/.
Tours and Tea with Abigail – At the Historic McAdam Railway Station, guests step into the setting of the beloved children's book Abigail Massey at McAdam Station, and sip tea with book series characters that are brought to life by costumed staff. Experience available by appointment, starting at $15 per person.
For more information on New Brunswick, visit https://www.tourismnewbrunswick.ca/.
About Atlantic Canada Agreement on Tourism (ACAT): This project has been made possible through funding provided by the Atlantic Canada Agreement on Tourism (ACAT). ACAT is a nine-member pan-Atlantic initiative comprising the Atlantic Canada Opportunities Agency, the four Atlantic Canada Tourism Industry Associations, and the four Provincial Departments responsible for tourism.
For more information on the four provinces, visit these websites or follow on social media:
New Brunswick
Web: http://www.tourismnewbrunswick.ca
Instagram: @DestinationNB
Twitter: @SeeNewBrunswick
Facebook: @DestinationNB
Nova Scotia
Web: http://www.novascotia.com
Instagram: @VisitNovaScotia
Twitter: @VisitNovaScotia
Facebook: @NovaScotia
Newfoundland and Labrador
Web: http://www.newfoundlandlabrador.com
Instagram: @newfoundlandlabrador
Twitter: @NLtweets
Facebook: @NewfoundlandLabradorTourism
Prince Edward Island
Web: http://www.tourismpei.com
Instagram: @tourismpei
Twitter: @tourismpei
Facebook: @tourismpei
MEDIA CONTACT:
Gina Dolecki/Ashley Mindnich
Redpoint
212.229.0119
dolecki@redpointspeaks.com
mindnich@redpointspeaks.com