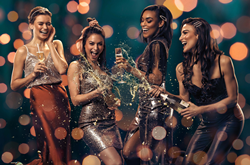 NEW YORK (PRWEB) August 25, 2020
Bellefixe is an American hair-accessory company launching stylish new designs monthly for all hair types and textures. The premium, affordable pieces are both pretty and practical for the cost-conscious fashionista.
"Accessories are the key to personalizing your style," says founder, Kate Hillebrand. "I spent the majority of my career working on campaigns for major film studios. Working so closely on red carpet premieres gave me glimpses into the high-fashion moments I loved to emulate. I created Bellefixe to offer on-trend looks at an accessible price point, without sacrificing quality."
Bellefixe is launching with four beautiful collections: Cocktail, Island, Leisure and BelleBasics. Prices range from $8.00-$18.00. The Cocktail Collection stuns with sparkly, chic headbands, scrunchies and pins inspired by a few of everyone's favorite libations. The Island Collection wows with bold prints in colorful hues to celebrate our favorite vacation destinations while the Leisure Collection has the perfect pieces for a cozy day in with soft and sustainable bamboo fabrics in muted colors, and cute clips to put your hair up at-home. BelleBasics are all the essential accessories for creating any hairstyle.
Originally slated to launch in March 2020, when the pandemic hit, Bellefixe was affected by factory shutdowns and supply chain delays. The company quickly changed course to help frontline workers, and manufactured 5,000 head wraps designed with buttons to comfortably attach a face mask. They were donated to first responders across the United States. Now, Bellefixe is debuting on-trend, affordable hair accessories to consumers who want both better style and savings.
Bellefixe is a woman-owned and managed company based near Philadelphia PA.
For more information, visit bellefixe.com or follow at @Bellefixe