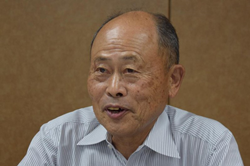 The book represents 'ground zero for the most important advances in quality improvement since the Deming-inspired quality improvements of the post-WWII Japanese economic miracle.'
BOSTON (PRWEB) July 21, 2021

In Japanese, "dantotsu" means "extreme," "radical," or "unparalleled." In "The Toyota Way of Dantotsu Radical Quality Improvement", author and Toyota veteran Sadao Nomura shares how he and his team took quality to a radically higher level at the Toyota Material Handling Group, widely known as Toyota Logistics & Forklift Company (TL&F), according to the nonprofit Lean Enterprise Institute, Inc., a leading lean management bookseller.
TL&F represents "ground zero for the most important advances in quality improvement since the Deming-inspired quality improvements of the post-WWII Japanese economic miracle," said John Shook, author of seminal books and articles on Toyota's lean management business system. Shook learned the system working at Toyota for 11 years, becoming the company's first American kacho (manager) in Japan.
Using powerful and plentiful illustrations, the book offers a detailed, step-by-step account of Nomura's relentless method, which includes the analysis of every defect, exploration of root causes, use of standardization and "weak point" management, and engaging with product developers and suppliers to prevent problems from reoccurring. The book also describes the company culture needed to achieve and sustain superior quality levels.
Praise from a CEO
In 2006, TL&F requested assistance from Nomura, who had held a wide variety of management and executive responsibilities at Toyota, including manufacturing management, quality assurance, support for suppliers and global operations, and president of Technol Eight Co., Ltd., a Toyota-owned manufacturer of auto parts. Nomura's job at TL&F was to improve quality at acquired operations in the U.S., Sweden, and France.
Improvement was expected, but the dramatic nature of the improvement was not. By 2016, results included cutting in-process defects by 98 percent and customer claims by 93 percent. Nomura's methods were adopted by Toyota's Japan operations as well.
Writing in the Foreword, Michael Field, CEO, The Raymond Corporation, a Toyota affiliate that makes material handling equipment, reported that Nomura's method cut defects from a baseline average in 2006 of 1.23 defects per unit down to 0.0036 defects per unit in November 2019.
The method "has allowed our organization to rise to new levels of lean management expertise, from the plant floor to the back office, including optimizing our distribution companies and even helping our suppliers and
customers to do the same," Field wrote.
About the Book

"The Toyota Way of Dantotsu Radical Quality Improvement" (Paperback)
Author: Sadao Nomura
Publishers: Lean Global Network, Inc. and Routledge
ISBN-13: 9780367672362
Publication Date: June 11, 2021
Pages: 286
List Price: $49.95
About the Lean Enterprise Institute
Lean Enterprise Institute Inc. is a 501(c)(3) nonprofit based in Boston, MA, with a mission to make things better through lean thinking and practice by helping companies create more value and prosperity while consuming the fewest possible resources. Founded in 1997 by management expert James Womack, PhD, LEI conducts research through co-learning partnerships with companies, teaches on-site and online workshops, publishes books and ebooks, organizes conferences, and shares practical information about lean thinking and practice at http://www.lean.org.