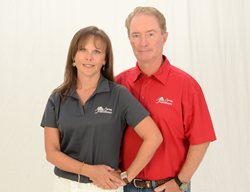 The services we provide at Caring Transitions are all about peace of mind. We work with seniors and families to help them achieve their relocation, right-sizing, downsizing or estate finalization goals quickly, efficiently and compassionately. - Robert Baker
CATAWBA VALLEY, N.C. (PRWEB) November 07, 2018
After years of working within the senior housing industry, local resident Robert Baker and his wife, Tracy, are excited to announce the launch of their new professional resource for relocation services; specializing in senior move management, downsizing, decluttering and estate liquidation services - Caring Transitions of Catawba Valley.
Caring Transitions of Catawba Valley serves the greater Hickory area including Newton, Conover, Catawba, Granite Falls, Hudson, Lenoir, Blowing Rock, Boone, Taylorsville, Morganton, Wilkesboro and North Wilkesboro.
"The services we provide at Caring Transitions are all about peace of mind. We work with seniors and families to help them achieve their relocation, right-sizing, downsizing or estate finalization goals quickly, efficiently and compassionately. We know, especially when you're working with older adults and families, it's an emotional and stressful time for everyone involved. We are here as a resource to make that process easier, no matter what stage of the process you are in," Robert said.
"The greater Hickory area is in the middle of a demographic shift due to the aging baby boomers. In 2013, one of every five residents was over the age of 60 and, by 2033, one of every four residents will be older than 60, according to the NC Coalition on Aging. With an aging population our community is facing and will continue to face new challenges in providing services to assist the senior population," Robert said.
Caring Transitions' services are perfect for managing the many aspects of a senior move or assisting with the process of downsizing to ensure a safe and optimal living situation. As Caring Transitions' plans are customizable, clients can choose the solution that best fits their needs – whether that means managing the entire move, estate sale, the final cleanout or getting a loved one resettled into their new place.
"It's often overwhelming for seniors and families to think about the transition process. In most cases, it is obvious that something needs to be changed because the current living situation isn't working or simply is not safe, but it is often difficult to know where to start, what the process will look like, how to get it all done or who to turn to for help. At Caring Transitions, it's our job to come in, listen to the clients and then create a customized solution and timeline that helps remove their fear, uncertainty and doubt and give them an understandable and clear picture of what the transition process will be," Robert said.
Caring Transitions is CRTS (certified relocation transitions specialist) certified, bonded, insured and their W2 employees have been background checked. For additional information about Caring Transitions of Catawba Valley, call (828)358-0383, email either RBaker(at)CaringTransitions.com or TracyBaker(at)CaringTransitions.com, or visit http://www.CaringTransitionsCV.com.
About Caring Transitions
Caring Transitions, founded in 2006, is the first national franchising concept specializing in senior relocation and transition services. With more than 200 locations throughout the United States all owned and operated by Certified Relocation and Transition Specialists, Caring Transitions provides clients with supportive moves, auctions, rightsizing and transitions. This includes expert advice plus a well-executed transition plan beginning with the initial sorting of personal belongings through packing, shipping and selling of items to the final clearing and cleaning of the property. For more information, visit http://www.caringtransitions.com or visit us on Facebook.