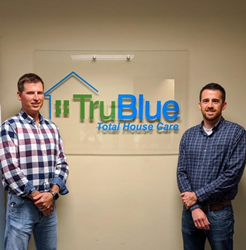 You don't have to worry about what you'll get when you work with TruBlue – we'll give you accurate quotes, we'll be on time, we'll do what we say we're going to do and we'll do it right. When you combine that with our wide variety of services, that's what sets us apart. - Daniel Elswick
LEXINGTON, Ky. (PRWEB) June 16, 2020
Throughout their careers in construction, Daniel N. Elswick and Casey Martin frequently found themselves working together and realized they had a shared dream of opening their own business. Now Elswick and Martin are pleased to announce that that dream is coming to life with their new franchise – TruBlue of the Bluegrass.
TruBlue is a full-service house care company that offers both bundled and unbundled services in Lexington, Paris, Winchester, Mount Sterling, Carlisle, Owingsville and the surrounding areas. Clients looking for dependable, high-quality, individual services can hire TruBlue for handyman repairs, cleaning services, emergency repairs, landscaping, seasonal services and minor home renovations. For clients looking for total house care solutions – especially seniors and busy families who want the comfort and convenience of owning a home without worrying about the maintenance hassles – TruBlue offers a House Care Plus monthly and quarterly maintenance program. TruBlue also works with homeowners, real estate agents, and rental property owners who need to get homes move-in ready quickly and keep them maintained and offers commercial services for business clients.
"TruBlue is unique not only because, as a franchise, we are backed by a national company with the highest standards of operations and quality of work, but also because of the wide variety of work we can do for our clients. When you work with TruBlue, we can take care of everything from spring cleaning and handyman repairs to renovations and senior home safety assessments and modifications. It's really one-call-does-it-all service," Martin said.
Martin grew up working in his dad's construction company, Bensco Builders. Elswick is a licensed professional engineer with a degree from the University of Kentucky. Both Elswick and Martin have spent their professional careers in a variety of roles in the construction industry and often found themselves working for the same companies – most recently for The Walker Company. When the company went through an ownership change, Elswick and Martin decided it was time to open their own business.
"We have a lot of great experience in the construction industry. We were looking for a trustworthy franchise that shared our values for quality and service and that's what led us to TruBlue Total House Care," Elswick said. "We know that a business like this is built on return customers and referrals, which you only get by providing great customer service and doing high-quality work. You don't have to worry about what you'll get when you work with TruBlue – we'll give you accurate quotes, we'll be on time, we'll do what we say we're going to do and we'll do it right. When you combine that with our wide variety of services, that's what sets us apart."
TruBlue of the Bluegrass is licensed, bonded and insured. To learn more about TruBlue of the Bluegrass, call 859-585-0972, email either delswick@TruBlueHouseCare.com or cmartin@TruBlueHouseCare.com, or visit https://www.trubluehousecare.com/east-lexington/.