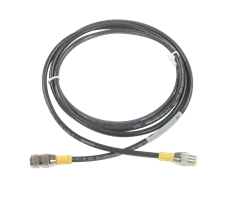 MUSKEGON, Mich. (PRWEB) August 29, 2018
Smart Vision Lights, a leading designer and manufacturer of high-brightness LED lights for industrial applications, introduces a new cable that provides a directly wired connection between a light and the second-generation In-Sight 7000 vision system from Cognex.
Part of SVL's Camera to Light (CTL) series, the NSB black cable works with the new pin layout of the IS7000 Gen2 camera series. The cable comes in lengths of 300, 1000, and 2000 mm, with custom sizes available. SVL is developing a second version of the IS7000 Gen2 cable, which will have a separate connector for power.
The IS7000 Gen2 cable joins the existing IS7000 Gen1 CTL grey cable, which is used for the first generation of Cognex IS7000 cameras. The Gen1 cable is available in the same sizes as Gen2. SVL has also added a new CTL cable for Cognex's In-Sight 2000 vision system.
Part numbers for the In-Sight CTL cables include:
Camera Cable
IS2000 5PM12-JS2000-CTL
IS7000 Gen1 5PM12-Jxxxx-CTL*
IS7000 Gen2 5PM12-Jxxxx-CTL-NSB*
*The "xxxx" indicates desired cable length.
SVL develops custom cables in the CTL series for other camera manufacturers, including Baumer, Datalogic, SICK, and Teledyne DALSA.
For more details on the new In-Sight CTL cables, visit https://smartvisionlights.com/cognex/insight#wiring.
About Smart Vision Lights
Smart Vision Lights (Muskegon, Mich.) is a leading designer and manufacturer of high-brightness LED lights for industrial applications, including machine vision. Smart Vision Lights products come with universal internal current-control drivers, offering constant or strobed operation, reduced wiring requirements, and easy installation. Smart Vision Lights products are also the safest on the market thanks to the company's in-house IEC 62741 light-testing laboratory, guaranteeing conformity and compliance for your lighting systems, regardless of where they are installed around the globe. Learn more at SmartVisionLights.com or by calling (231) 722-1199 in the U.S.