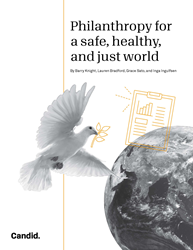 At a time when the world needs so much healing, we hope that the study will show why a new approach is needed.
NEW YORK (PRWEB) July 14, 2020
Today, Candid released Philanthropy for a Safe, Healthy, and Just World, a first-of-its-kind study that identifies clear opportunities and challenges in supporting peacebuilding activities. Currently, less than 1% of philanthropic funding supports peace and security. 823 organizations worldwide responded to a survey, conducted by Candid and CENTRIS and funded by PeaceNexus, which formed the basis of the study. The study sheds light on what motivates civil society organizations to support—and not support—peace-related work, addresses common misconceptions about peacebuilding, and suggests concrete recommendations to enable greater involvement and investment.
Lauren Bradford, senior director of global partnerships at Candid, said, "This study starts to answer foundational questions for the sector. What we've learned from those doing peacebuilding work is that effective approaches are grounded in the intersection of social justice, human rights, and peace, and carefully considers dynamics that stand in the way of achieving a more peaceful society."
Key findings from the report include:

Non-governmental organizations/civil society organizations are the most active in peacebuilding, while endowed philanthropy is the least active.
The two most powerful predictors of commitment to peace are organizations' experience working in a conflict zone and commitment to political change.
Given a list of social change priorities, survey respondents ranked conflict transformation and peacebuilding last. Yet, more than half of respondents said that supporting resilience and stable societies—a key component of peacebuilding—is either important or central to their work.
Respondents are more likely to see their work through a lens of social justice or human rights than through that of peace and security.
Reasons for why organizations are not engaged in peacebuilding include: it's too political (43.2%); there's not enough evidence for what works (24.3%); it's too difficult to measure (24.3%); and it's for government and official donors, not for private foundations or civil society (18.3%).
Respondents tend to see peacebuilding as primarily relevant in areas affected by war or violent conflict. However, conflict-related issues such as racial and ethnic animosity and hate crimes, mass shootings and gun violence, economic inequality, and gender inequality underscore why peacebuilding is needed in every region of the world.
CENTRIS executive director Barry Knight said, "The study shows what practitioners have been saying for years, namely that peacebuilding at community level is invisible to grantmaking foundations. At a time when the world needs so much healing, we hope that the study will show why a new approach is needed."
Peace and security are global issues with relevance to every community. Philanthropy for a Safe, Healthy, and Just World will help philanthropy and civil society organizations shift perceptions, improve strategies, and prioritize preventing conflict and building peace locally and globally.
About Candid
Every year, millions of nonprofits spend trillions of dollars around the world. Candid finds out where that money comes from, where it goes, and why it matters. Through research, collaboration, and training, Candid connects people who want to change the world to the resources they need to do it. Candid's data tools on nonprofits, foundations, and grants are the most comprehensive in the world. Foundation Center and GuideStar joined forces to become Candid, a 501(c)(3) nonprofit organization. Find out more at candid.org and on Twitter @CandidDotOrg.