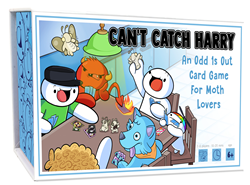 I'm grateful for all the support of our backers on Kickstarter so far for the Can't Catch Harry game, which we expect will be a big hit during their family game nights.
PHOENIX (PRWEB) October 16, 2018
The new 'Can't Catch Harry' Card Game created by American YouTube Cartoonist James Rallison (better known online as TheOdd1sOut for his animated videos) has raised more than $200,000 – 20 times its campaign goal with more than 3,000 backers now on Kickstarter.
Rallison's crowdfunding success also coincides with the recent announcement that TheOdd1sOut has been nominated for a Streamy Award, often referred to as the Streamys, which are presented annually by Dick Clark Productions and Tubefilter to recognize and honor excellence in online video, including directing, acting, producing, and writing.
"I'm honored that I've been nominated for a Streamy, and for that to come along while we're doing so well on Kickstarter is fantastic," Rallison said. "I'm grateful for all the support of our backers on Kickstarter so far for the Can't Catch Harry game, which we expect will be a big hit during their family game nights."
The game is based on one of TheOdd1sOut's more popular videos, Harry the Moth, which was developed from a real-life incident that happened to Rallison and his sister when they were children in Kindergarten. They caught a moth, which they named 'Harry,' and took their moth to school one day as part of a 'bring your pet to school day.' Unfortunately, during recess that day the moth escaped and was promptly eaten by a bird.
"I have always loved playing card and board games, so I decided to create my own game based off of one of the most scarring events of my childhood," he said.
The game, its name derived from Rallison's comedy bit on the moth's lowly reputation compared to a butterfly, works like this:
All players start with four cards and cards are drawn from the deck and passed from player to player until someone has four of a kind. At that point, the player tries to grab Harry the moth (one of the figurines). As other players see a competitor reach for a figurine everyone, regardless of current cards, reaches for a moth. Depending on what cards you have in your hand and what moth you can grab you receive or lose points. The expansion pack also features game play cards which change the environment that the game is played in, as well as what the players can do.
The game includes:

A 54-card deck, with each card drawn by James Rallison and featuring a character from his videos
Five figurine game pieces – all game pieces are moths from his "Harry the Moth" video, with Harry the Moth being the featured figurine
A Custom game play mat for the figurines to sit on
"Fans of The Odd 1s Out will like seeing one of our more popular episodes turned into a game, but it's really made for any family to enjoy," he said. "I created Can't Catch Harry to be the perfect game for anyone who simply enjoys playing board or card games with their friends or family."
Rallison spent months working alongside with his team to develop a brand-new game that he could share with everyone with hopes that the game will become a family favorite and find its place alongside other popular family games.
The game is available at early-bird discounts during the crowdfunding campaign. There are certain options for the game that will only be available during Kickstarter as well, such as holographic cards, golden figurines and custom cards are among some of the options that will only be available on Kickstarter.
For more information, visit the Can't Catch Harry Card Game Campaign Page on Kickstarter.
About TheOdd1sOut/James Rallison
James Rallison, known by his moniker 'TheOdd1sOut,' is an American YouTube cartoonist based in Arizona and is best known for his comic series and his YouTube channel of the same name. As a member of the Animation Squad, Rallison sometimes works with his YouTube animator friends such as TimTom, Jaiden Animations and SomeThingElseYT, – appearing in their videos and vice-versa. Rallison also frequently collaborates in smaller YouTubers' videos, sometimes even YouTubers bigger than him, which grows both their audience by thousands. TheOdd1sOut, a YouTube Channel that was started in August 2014, currently has 8.3 million subscribers and 1.1 billion video views – offering viewers a family-friendly channel that shares the life stories of James Rallison through humor and animation.