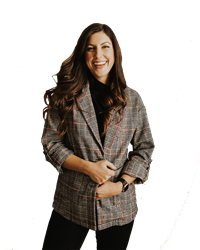 I understand what it's like to navigate career change and wonder why everyone else seems to have this job thing figured out! I will provide an empathetic and empowering coaching approach to every meeting.
INDIANAPOLIS (PRWEB) March 24, 2020
Lauren Carter [BA, MA] started Career Coach Indy after working at Purdue University to help individuals navigate their career paths. She received her Masters in Higher Education from Taylor University and went to work for Purdue University's Center for Career Opportunities. She is a trained Career Coach and has experience guiding hundreds of individuals & students through changing careers. Lauren is unique in her ability to effectively communicate along with her intuition to discover individual passions that align with careers with a bright job market outlook.
Lauren is an advocate for corporate careers, as well as careers in the skilled trades. She provides career testing to help individuals better understand their inner passions and strengths to make the best career choice. She also helps with the job search process from start to finish, including resumes, personal branding, and interview preparation. She is versed in a variety of career aptitude tests and works with individuals to identify strengths and interests. Passions, skills, and values need to be in alignment for individuals to find the right career.
She has met with many individuals who went to college only to discover they were not satisfied with their major. Lauren knows the frustration as she herself changed her college major early on after realizing she had not chosen a path that matched her passion. She has also met with many individuals who stuck with their unhappiness in college and finished a major that didn't match their passion. They go to work for years in a field that leads to emptiness and unfulfillment, and these individuals are searching for career counseling to rediscover their work-passion and realign their career paths.
Lauren has a passion for the trades. She sees so many high school students who struggle to discover a career path they like and choose college because 'it's the thing to do.' They aimlessly pursue college without direction, when what they really wanted lies outside of the boundaries of college structure. Many students do not thrive in lectures and the typical classroom structure in high school, which leads to further frustration in college classrooms. Plus, they have to borrow the money to go to college. She sees many students strapped with college loans at the end of a four-year program only to graduate without a job, or take a job they don't like, making a little more than minimum wage.
Lauren recognizes the humongous shortage in the skilled trades, and is encouraging high students who enjoy working with their hands or tools, to pursue a particular trade. The advantage of the trades is the ability to work and learn. Many students make up to $30k-$40k per year, plus their employer pays for the education. Upon graduation and licensure many skilled professionals are able to make what an engineer makes after 3-5 years on the job. Plus, there is so much opportunity for entrepreneurship in the skilled trades field.
Lauren offers online or in-person meetings. She has a menu of services including career assessment, college choice, career transitioning, resume building, LinkedIn profiles, and interviewing practice. During the COVID-19 outbreak, she is offering a free resume review for individuals who are experiencing job loss due to the economic crisis. She is Indianapolis based, but works with individuals from any location. Contact Lauren here.