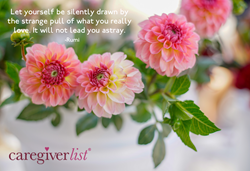 "Caregivers experience exceptional amounts of stress because there is a strong emotional context to it," says Dr. Cohen.
CHICAGO (PRWEB) September 27, 2018
Caregiver stress continues to be one of the main contributors to caregiver burnout and high turnover of caregiver employees in the senior care industry. A new study on caregiver stress will share results with caregivers to showcase the best ways to process the stressors that come with caregiving.
One of the principal founders of philosophical counseling in the United States, Elliot D. Cohen, Ph.D., along with the National Philosophical Counseling Association, are conducting a new study to determine the most positive way for caregivers to manage stress. The Logic-Based Therapy in Reducing Stress in Caregivers study is recruiting family and professional caregivers to participate in 1-hour sessions with a local therapist.
"Caregivers experience exceptional amounts of stress because there is a strong emotional context to it. The psychological aspects of caregiving are enormous," says Dr. Cohen. The results of the study will be shared with the caregiver participants to help them better manage the stress that comes with being a caregiver.
The Caregiver Stress Study locations seeking caregivers to participate are in these cities:
San Diego, California
Austin, Texas
Chicago, Illinois
Hammond, Indiana
Richmond, Kentucky
Greenville, South Carolina
Atlanta, Georgia
West Palm Beach, Florida
Caregivers may submit their name to be contacted to participate in this free study on the Caregiverlist study submission form. As more caregivers are needed to keep up with staffing needs in senior care, Caregiverlist has partnered with Dr. Cohen to connect caregivers with therapists in their area who are conducting the caregiver stress study.
"Caregiver turnover has always been higher than 50% in every industry study since the professional senior home care industry began surveying senior care companies and caregivers," says Julie Northcutt, CEO of Caregiverlist. "Because of this, Caregiverlist provides resources for managing caregiver stress both in our caregiver training courses and in our caregiver resource center. We are looking forward to sharing the results of this study with senior caregivers." Career caregivers often take time off after a client passes away or gets better and learning how to cope with the stress of caregiving will help these caregivers as they prepare to care for and connect with their next senior client.
Now that more than 30 states require professional caregivers to be trained, Caregiverlist's online training includes providing tools for caregiver support, including a "Caregiverlist Stress Relief Photo of the Week" by award-winning photographer Barbara Wehr Calabrese.
About the Logic-Based Therapy in Reducing Stress in Caregivers Study
Caregivers will be randomly divided into two groups. One group will participate in a 1-hour session of Logic-Based Therapy, which will be conducted by a therapist who has successfully completed a 6-week training course in Logic-Based Therapy and is certified by the National Philosophical Counseling Association (NPCA). The second group will watch a 1-hour relaxing nature video while practicing a mindfulness exercise focusing on the video. There will be 30 subjects in each group. Prior to participating in the Logic-based therapy session, each experimental subject will receive a battery of inventories, called the pre-test.
The total time commitment for caregivers chosen to participate in this free caregiver stress study will be about 2 hours, including the one-hour session, pre-tests and post-tests and follow-up pre-tests and post-tests.
Dr. Elliot D. Cohen is the founder and editor of the International Journal of Applied Philosophy and International Journal of Philosophical Practice and has authored more than 25 books and numerous articles in philosophical counseling, applied philosophy and professional ethics.
About Caregiverlist®
Caregiverlist.com® is the premier service assisting people to plan and train for senior care by connecting seniors and professional caregivers with the most reliable senior care options, highest quality ratings, certified state caregiver training and outstanding careers nationwide. Founded by senior care professionals, Caregiverlist® delivers the efficiencies of the internet to senior care companies by providing online caregiver training, caregiver job applicants and local senior care costs and options. Seniors and caregivers can access senior service information "by state," view nursing home costs and star-ratings and learn about all senior care options and state caregiver training certifications. For more information, please visit http://www.caregiverlist.com.