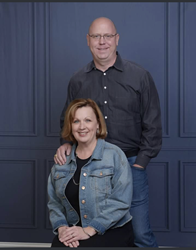 Caring Transitions is not just a business – it's a service that can really make a difference for families and seniors – and we pride ourselves on being able to offer customized solutions for each unique situation. - Gina Dieterichs
GRANBURY, Texas (PRWEB) March 17, 2021
Long-time Caring Transitions employees and community advocates Gina and Steve Dieterichs are pleased to announce that they are the new owners of Caring Transitions of Granbury.
"We are honored to have been hand-picked for business succession by the founder of Caring Transitions of Granbury and are looking forward to continuing the tradition of service well into the future. Caring Transitions is not just a business – it's a service that can really make a difference for families and seniors – and we pride ourselves on being able to offer customized solutions for each unique situation," Gina said.
Caring Transitions is the professional and compassionate choice for senior moves, downsizing, resettling and estate sales. Caring Transitions' specially-trained professionals handle every detail of their clients' transition including decluttering, cleanouts, packing, move management, unpacking, resettling and estate sales.
The Dieterichs have been running the business for about a year and finalized purchasing the business in early 2021. Caring Transitions of Granbury will continue to serve Granbury, Weatherford, Southwest Fort Worth, Aledo, Benbrook, Cleburne, Burleson, Crowley, Joshua and Godley.
Both Steve and Gina have been advocating for families and community in their own ways for decades. Gina's extensive background in non-profit program delivery and management, combined with her small-town upbringing, tends to make her instantly relatable to senior clients. Steve has advocated for the communities in which he's lived for the past decade, serving in high-profile leadership roles in the fields of tourism and downtown development. Earlier in his career, he honed considerable cross-cultural skills during four years working for the U.S. State Department at the United Nations in New York City.
Shortly after the Granbury franchise was founded, Gina responded to an employment ad and found much more than a part-time job. An opportunity to grow skills in a caring environment quickly led to greater and greater responsibilities within the organization. Steve signed on to provide occasional support for special projects off and immediately learned the fulfillment of helping senior neighbors and families in transition.
"Caring Transitions strives to be the total solution and on-site advocate, keeping families' best interests at heart by minimizing stress and maximizing results. This advocacy is what first drew us to Caring Transitions," Steve said. "As the country's first national franchising concept specializing in senior moving, downsizing and estate sales, Caring Transitions has laid a strong brand foundation in the liquidation services industry and the team at Caring Transitions of Granbury has worked hard to be the most trusted and respected provider of move management and senior relocation services in our territory. We look forward to continuing that tradition of service and compassion."
Caring Transitions of Granbury is bonded and insured and all employees are background checked. For additional information, call 817-514-6161, email either sdieterichs@caringtransitions.com or gdieterichs@caringtransitions.com, or visit http://www.CaringTransitionsGranbury.com.