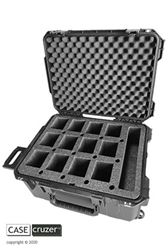 MONTCLAIR, Calif. (PRWEB) August 11, 2020
CaseCruzer expands its product selection of protective carrying cases with continued quality and speed of delivery, trademarks the company prides itself in. The newly released Handheld Radio Carrying Cases provide public safety personnel and first responders with convenient transport of two-way radios to wherever they're needed in the field. The new series consists of transport cases that hold six-, eight-, 10- and 12-pack radio models.
While much of the world is operating at a slower pace due to recent unfortunate events, first responders' job demands are running at an all-time high. With the current crisis, it's expected for first responders to be experiencing more stress and anxiety, so being able to receive continuous effective communication with other public safety personnel in real-time is very critical, especially in regards to patients' lives. That's why it's important for the Handheld Radio Carrying Cases to protect multiple radio devices and keep first responders interconnected in real-time. IT teams can easily help deploy the radios.
Even first responders who work in harsh temperatures can rest assured the universal radio cases will deliver in the most extreme environments. Well-known for its ruggedized, virtually indestructible design, CaseCruzer supplies only field-proven products with an unconditional lifetime warranty that can withstand temperatures of -10° to 210° F. The protective cases also guard against shock, impact and vibration.
Although CaseCruzer cannot predict the future, its packaging solutions help first responders be better prepared when Mother Nature takes its course. The carrying cases are inherently built to survive natural disasters. From strong water currents to applying hundreds of pounds of force, it can take it all. Creating such a tough case was no easy feat. When the case is closed and latched up, the pressure equalization valve and o-ring seal make the product airtight, watertight and dust-proof. The design also keeps moisture, air particles and solvents at bay. It's also resistant to UV, corrosion and fungus.
CaseCruzer knows every minute counts. Time and efficiency are of the essence. A fast, yet thorough inventory control strategy helps make the logistics workflow more seamless. And radios distributed quickly to safety personnel ensure they can readily access communications systems. Sustained and uninterrupted communications mean increased safety. Incident and crisis management involves emergency communications interoperability, mobility, and reliability within public safety agencies.
Depending on the case model, the radio cases have varying accessory compartment sizes and the smallest carrying case model of the series, the 6-pack, accommodates longer antennas in addition to the accessory section. The 12-pack has a longer antenna partition that takes the place of the accessory cavity.
Protective cases can be stacked to allow for easier transportation of radios. Please note, only cases of the same size or smaller can be stacked on top. The series comes with a pull-out handle and wheels for check-in only at airports.
CaseCruzer fully supports and highly values all of the hard work doctors, nurses, medical teams, as well as public safety personnel have done and continue to do, to positively impact the world, especially during these times.
The CaseCruzer network of companies provides the community with the most comprehensive packaging solutions available on reusable carrying cases for applications such as Communications, Photography, Computers, Electronics, Weapons, Medical, Transportation and other industrial shipping and carrying case uses. For more info about the Handheld Radio Carrying Case Series, please visit http://www.casecruzer.com; call 800-440-9925 in the U.S. or 909-613-1999 internationally; fax 909-613-1979; or write to CaseCruzer at 4665 State Street, Montclair, CA 91763.