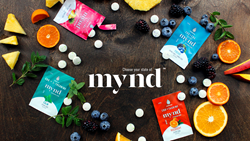 Our gum delivers which is why we tell customers it will blow their mynd
LONGMONT, Colo. (PRWEB) November 23, 2020
Americans love chewing gum and health-conscious Americans– in surging numbers – love the health benefits of CBD, the non-intoxicating compound found in cannabis plants. Seeing an opportunity to appeal to both markets, Cannovia, a leading CBD health and wellness company, has launched its new product, mynd Gum.
"We're excited about mynd because it gives increasingly sophisticated CBD customers exactly what they want," said Brian Baum, Cannovia CEO. "They're looking for ways to enjoy the benefits of CBD quickly with a product that's portable and, most importantly, can enhance their desired states of mynd. Our gum delivers which is why we tell customers it will blow their mynd!"
The four types of mynd Gum, to be sold in two serving packs at $5/pack include "Energy", "Focus', "Calm" and "Recovery".
Product Description:
________________
ENERGY – Energy drinks and pills are used by fast-paced consumers to combat low energy. Unfortunately, these products often have high levels of caffeine which means their energy surge is often followed by a crash with jitters. With its tropical fruit flavor, mynd ENERGY is different, combining the natural support of CBD and CBG, cannabinoids from hemp that supports the endocannabinoid system which regulates the body's physiological functions so there is internal stability, along with energy-boosting caffeine and B vitamins that help the body convert nutrients for fuel, delivering an "I can do this" feeling and thanks to the CBD and CBG content, without the crash and jitters.
FOCUS – Leading busy work and personal lives with more distractions than ever, it can be difficult to concentrate on tasks in everyday life. With a great-tasting berry fruit flavor, mynd FOCUS combines the natural support of CBD and CBG, cannabinoids from hemp to stimulate the endocannabinoid system to maintain balance in the body's physiological systems, along with the nootropic citicoline which supplies the brain with nutrition, FOCUS gum chewers can ignore distractions and focus on the most important tasks at hand.
CALM – Likely to become the more popular gum type because of the stress-inducing pandemic, mynd CALM provides the endocannabinoid system with additional cannabinoids to help regulate the body's stress response to maintain homeostasis and a calming effect with L-Theanine, an amino acid that promotes relaxation without sleepiness. mynd CALM comes in a refreshing and relaxing mint flavor.
RECOVERY – From a night of overindulgence or the next-level workout this morning, being your best now begins with chewing gum, mynd RECOVERY. It combines CBD that stimulates the endocannabinoid system to send help where needed to balance internal systems, lessen the effects of stress, settle the unsettled and provide a boost of energy that comes from caffeine and the amino acid taurine that together promote mental alertness. RECOVERY includes Vitamin C to counteract cell-damaging free radicals that can result from alcohol and B vitamins that help the body convert nutrients for fuel.
Customer Testimonials:
__________________
In advance of launching mynd gums, customers that tested the products provided high marks, particularly because of its ability to deliver the mynd effect they sought.
"After a particularly long day, I was driving across the Colorado front range," said Suzanne Walsh, a fan of mynd FOCUS. "As I drove, a million thoughts ran through my head. I was distracted from the drive. Then I remembered I had a sample of mynd FOCUS. I took the gum and within ten minutes - it was me and the road. I was amazed at how quickly I became laser-focused on the road."
"I've never been a caffeine drinker," said Wes Cude, a gum-smacking fan of mynd ENERGY. "But before a recent workout, I chewed a piece of mynd Energy gum and I was amazed at how quickly I felt a surge of energy. None of what I remember about caffeine followed, including the jitters. It gave me pure energy with none of the side-effects!"
Each piece of mynd gum, with concentrations of total cannabinoids ranging from 20mg to 30mg, is fast-acting, absorbs in the blood stream in less than 10 minutes. mynd is available now for online purchase at http://www.myndgum.com and will be available in selected retailers starting in 2021