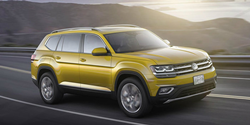 GLENDALE, Calif. (PRWEB) January 22, 2019
The New Century Volkswagen dealership is promoting their Volkswagen Service Credit Card to the general public. The Volkswagen Service Credit Card offers exclusive savings to cardholders.
The Volkswagen Service Credit Card program benefits include exclusive savings, a dedicated line of credit, extended deferred-interest finance plans, $0 liability on fraudulent purchases and 24/7 online account management. Additionally, this year the dealership is offering a $25 rebate on qualifying purchases that are made with a Volkswagen Service Credit Card. The purchase must be made between January 1st and December 31st, 2019 and must be $250 or higher. The rebate must be submitted within 45 days of the purchase date. The rebate will come by mail in the form of a Visa Prepaid Card.
The deferred interest financing plans available include a six-month deferred interest plan on a purchase of $200 or more. That means that no interest will be paid if the purchase is paid in full within the first six months after purchase. Anyone who is interested in learning more should read the dealership's web page on Service Credit Cards.
Anyone who is interested in applying for credit approval only needs their driver's license. Applying is quick and should take only a few minutes. All of the benefits apply immediately upon getting approved. Interested members of the community can apply online on the dealership's website for this credit card. Otherwise, potential customers may visit the dealership in person at 1220 South Brand Blvd. In Glendale, CA. Potential customers may also call the dealership's service team to have any questions answered. The dealership's service team can be reached at (855) 995-9969.