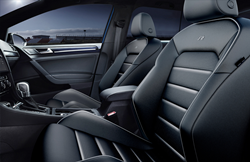 GLENDALE, Calif. (PRWEB) July 09, 2019
When a driver leases a vehicle, they are often responsible for additional charges at the end of the lease due to wear and tear on the vehicle. New Century Volkswagen wants its customers to walk away from a lease happy, and so it offers Lease-End Protection plans to help cover lease-end costs.
The benefits of purchasing a Lease-End Protection plan are coverage up to $10,000 at the end of a lease, waiving of up to 500 excess miles at the end of a lease, coverage for missing parts of up to $150 at the end of a lease, and no deductible costs. This insurance program is also transferrable or cancellable for a fee. The up to $10,000 coverage will depend on the vehicle's wear and tear. Coverable items include exterior paint damage, exterior dents or scratches, interior material rips or stains, front and rear windshield chips, side glass chips, carpet rips or stains, side and rearview mirrors, door rubber seals, bumpers, convertible tops, tire wear, audio equipment and much more.
Lease-End Protection is just one insurance option of the Volkswagen Drive Easy insurances offered by New Century Volkswagen. Potential customers are encouraged to talk to the dealership's employees to find insurance plans that will work for them. Questions about the insurance coverage can also be directed to the dealership's team.
The dealership's sales team can be reached by phone at (833) 873-9398. They can also be reached in person during business hours. New Century Volkswagen is located at 1220 South Brand Boulevard in Glendale.