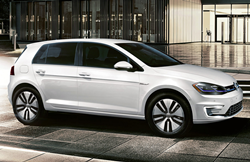 GLENDALE, Calif. (PRWEB) June 11, 2019
Car insurance can be a hassle, but everyone should have an insured vehicle in case of an accident. New Century Volkswagen wants to help their customers get trustworthy coverage, so they offer MyVWInsurance through Liberty Mutual.
MyVWInsurance is a coverage plan designed by Liberty Mutual specifically for Volkswagen drivers. This coverage plan has many benefits. It can help drivers with new car replacement, accident forgiveness and roadside assistance. Plus, drivers can receive a twelve-month rate upon approval. Drivers can also receive a discount when they insure multiple vehicles under one plan. Furthermore, when repairs are made to a vehicle covered under this plan, genuine Volkswagen parts will be used to make the repair.
Glendale-area drivers can apply for MyVWInsurance online at the dealership's website, newcenturyvw.com, by following a link at the bottom of the VW Protection Plans page under the Finance drop-down menu. There, they can also find more information on the plan and get a free quote for what the insurance would cost them. On average, switching to this insurance has saved customers hundreds of dollars.
For any inquiries, customers are encouraged to contact the dealership's sales team. The New Century Volkswagen sales team can be reached by phone at (855) 891-5846. They can also be reached in person during sales business hours at the dealership. They are available 9:00 AM to 9:00 PM Monday through Saturday, and from 10:00 AM to 6:00 PM on Sundays. New Century Volkswagen is located at 1220 South Brand Boulevard in Glendale, CA.