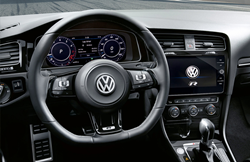 GLENDALE, Calif. (PRWEB) May 14, 2019
New Century Volkswagen provides Volkswagen Drive Easy Protection Plans. This month, they are promoting their Vehicle Service Protection plan for Glendale drivers. This protection plan can help cover or completely cover expenses related to vehicle repair. New Century Volkswagen employees know that unexpected vehicle repairs can be costly and necessary, and they want to help drivers get prepared.
There are three available plans for this type of coverage. The plans include Powertrain, Gold and Platinum. The powertrain coverage is the least-inclusive. It covers a vehicle's engine, transmission and drive axle. Plus, in the case of hybrid vehicles, it will cover additional hybrid components. Gold coverage includes everything already mentioned, and coverage for climate control, shocks, front and rear suspension, fuel system, and electrical system. The Platinum plan encompasses everything that the Powertrain and Golf plans offer, plus it can cover repairs for the steering system, brakes, CV system, audio, navigation and high-tech repairs.
All of these plans last for up to ten years or 120,000 miles, whichever comes first. There are many other benefits to choosing these plans to cover a Volkswagen vehicle. At New Century Volkswagen, repairs and replacements will use genuine Volkswagen parts, ensuring the quality of the vehicle components. There are also the benefits of roadside assistance, transferrable coverage, cancellable coverage, and reimbursement for towing, rental vehicles and more.
To learn more about Volkswagen Drive Easy Protection plans and the benefits of the Vehicle Service Protection plan, drivers are encouraged to contact the dealership with any questions or concerns. They can call the New Century Volkswagen sales team at (866) 969-8841. Their website is newcenturyvw.com.