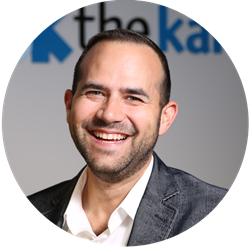 AUSTIN, Texas (PRWEB) January 10, 2019
The Karis Group, an Austin, Texas based company, announced today that it has selected Zachery "Zac" Jiwa as its new President & Chief Executive Officer effective immediately. Mr. Jiwa succeeds the past Chief Executive Officer, Mike Martin, who retired from the company in December after 9 years of service. The transition was announced as part of an orderly succession plan and transition of leadership at the 22-year old company and employer of choice in the Austin community.
"We are blessed to have someone of Zac's caliber and experience assume the role of CEO and lead The Karis Group within the healthcare marketplace," said Dr. Tony Dale, Founder and Board Chair. Dale continued "Zac is well-versed in the healthcare marketplace and a technology visionary with broad experience in business operations. He has a proven track record of execution and is an effective communicator who is team and client focused with exceptional leadership capabilities."
Mr. Martin, who has led the company since 2010, added, "I am pleased our succession plan has worked so well and the company is well prepared for its next chapter of growth. We are confident that Zac and our leadership team are very capable to grow the business and be great servants to our clients and customers throughout the U.S."
Prior to joining The Karis Group, Jiwa was founder and CEO of MI7, Inc. an Austin-based company focused on integrating electronic health records and clinical data systems. His distinguished career includes leadership roles at Microsoft's Health Solutions Group, the State of Louisiana's Department of Health and Hospitals and Children's Hospital of Austin. Jiwa also served as an Innovation Fellow for the U.S. Department of Health and Human Services from 2012 to 2014.
About The Karis Group
The Karis Group, Inc. is an Austin, Texas-based company founded in 1996. The organization is a leader in providing patient advocacy services through its trademarked Karis360 that saves its customers time, money, and especially reduce the frustration and chaos often associated with the healthcare marketplace. Moreover, the company specializes in providing churches and Christian schools across the U.S. with employee benefits options and alternatives for paying one's medical bills without the use of health insurance through its trademarked Karis Health Choice services.
From its offices in Austin, Texas, the company operates on a faith-based business model and sets aside 10% of its net income each month for serving a "higher purpose" in supporting ministries and missions around the world and charitable work in the Austin community. Learn more at: thekarisgroup.com.