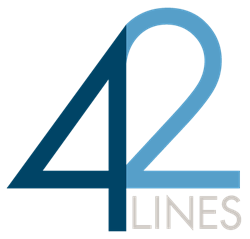 Right now, colleges and universities are looking for new ways to manage the classroom experience. This is one important way institutions can build bridges between an asynchronous learning environment and those 'real-time' synchronous experiences that students often expect
CHICAGO (PRWEB) August 06, 2020
42 Lines, a leader in custom edtech development and creator of the Harmonize online discussion platform, today announced that a new Chat feature is now available to Harmonize users. Participants in a Harmonize online discussion can now collaborate in real time directly in the platform.
"We introduced Harmonize Chat to give students and instructors using Harmonize another way to engage with each other," said Marcus Popetz, CEO of 42 Lines. "Right now, colleges and universities are looking for new ways to manage the classroom experience. This is one important way institutions can build bridges between an asynchronous learning environment and those 'real-time' synchronous experiences that students often expect," he said.
Because Harmonize Chat is accessible directly from the Harmonize online discussion, students can easily engage with other members of their class without searching across multiple applications. Presence indicators let Harmonize users know the online status of their classmates. A student or instructor can quickly scan for other students who may be online to say hello or start a conversation.
Harmonize Chat supports many of the features found in the Harmonize online discussion platform. Students can upload images, URLs, videos, or files, such as Word docs or PDFs. Harmonize Chat supports both individual and group chats directly from the discussion board. Students and faculty can chat one-on-one with one another to quickly clarify something in a discussion post or augment asynchronous online discussions with a real-time group chat.
"We conceived of Harmonize Chat as another way for students and instructors to stay connected at a time when our ability to engage face-to-face is shifting," said Popetz. "At a time when students might be feeling socially isolated, it's one more way technology is helping them succeed."
As institutions across the country ready themselves for the fall term, they will need a broader set of tools to support their long-term goals. Harmonize Chat offers a simple way for students to make more meaningful connections with each other and with their instructors.
About 42 Lines
42 Lines has more than a decade of experience developing innovative education technology solutions for higher education institutions and organizations looking to surpass industry standards. Created in response to educator and student feedback, the Harmonize platform seamlessly integrates with learning management systems to create an engaging, collaborative community for dynamic academic discussion, creative and analytical thinking, and in-depth feedback that drives improved learning outcomes. To learn more about 42 Lines, visit 42lines.net. To learn more about Harmonize, visit harmonize.42lines.net.