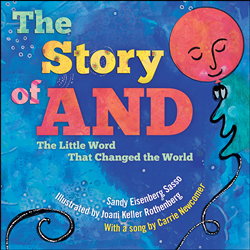 The Story of AND features an original song by award-winning singer and songwriter Carrie Newcomer!
LOUISVILLE, Ky. (PRWEB) April 23, 2019
As news stories about our divided country continue to make headlines, Flyaway Books is proud to announce the release of The Story of AND: The Little Word That Changed the World.
Written by Sandy Eisenberg Sasso, this original picture book tells the story of the word AND, a tiny yet important word that helps connect those around her. Inside the book, an array of opinionated shapes are unable to find common ground until the word AND helps the shapes work together to create something new. The Story of AND will help encourage children to look for the unexpected connections around them and it features bright, playful artwork by illustrator Joani Keller Rothenberg. This timely picture book is ideal for children ages 3-7.
Award-winning singer and songwriter Carrie Newcomer has recorded an original song based on the story. The song is available to readers as a bonus download at http://www.flyawaybooks.com/resources.
About Sandy Eisenberg Sasso
Sandy Eisenberg Sasso's many children's books include When God Gave Us Words and the award-winning God's Paintbrush. She is the Director of Religion, Spirituality and the Arts Initiative at Indiana University-Purdue University, as well as Rabbi Emerita of Congregation Beth-El Zedeck. For more information, visit http://www.allaboutand.com.
About Joani Keller Rothenberg
Joani Keller Rothenberg is a muralist, art therapist, and illustrator. She has been named artist-in-residence for academic, faith-based, and arts institutions.
About Carrie Newcomer
Carrie Newcomer is an award-winning singer and songwriter known for her solo recordings and her collaborations with other creative people, including previous work with Sandy Eisenberg Sasso. She travels and performs worldwide in support of cultural and humanitarian causes. For more information, visit http://www.carrienewcomer.com.
About Flyaway Books
Flyaway Books is a new children's book program dedicated to creating books that will inspire the next generation to fly. Books featured in the program carry themes of diversity, inclusion, self-esteem, kindness, compassion, and care for our world. They are also intentionally multicultural in their artwork and characters. Visit http://www.flyawaybooks.com for more information.