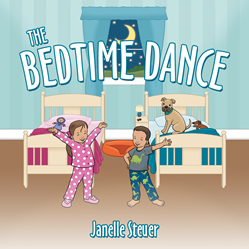 " I have been writing poems my whole life and thought providing this new way of putting your children to bed would be beneficial for any parent trying to make this nightly task fun."
PORTSMOUTH, R.I. (PRWEB) November 01, 2021
Many children look at winding down for the day as a chore they don't want to do. In Janelle Steuer's debut book, "The Bedtime Dance," she introduces to parents and kids a new bedtime routine to make it something to look forward to at the end of the day.
Throughout the colorful pages, Steuer shows readers that when the sun goes down, and it is time to sleep, they can do the bedtime dance and sing to the beat. "The Bedtime Dance" follows a young boy and girl as they are getting ready for bed and the nightly routine that makes going to sleep more enjoyable. Told through rhyming poems, Steuer's story will have little ones dancing, stretching and then unwinding as they get ready to go to bed.
"As I was reading my three-year-old daughter a bedtime story every night, it sparked an idea for me to write my own children's book," said Steuer. "I wanted to make bedtime more fun for the three of us by coming up with a fun and upbeat routine to make going to bed more enjoyable. I have been writing poems my whole life and thought providing this new way of putting your children to bed would be beneficial for any parent trying to make this nightly task fun."
Steuer's debut book has received numerous 5-star reviews. One review praises the book saying, "Adorable story for bedtime routine! Easy to read, catchy, and great illustrations! My daughter hands me this book at least 6 times a day to read to her!"
"The Bedtime Dance" uses beautiful illustrations and engaging rhyming verses that will bring a smile to all readers. Ultimately, the book presents an enjoyable bedtime routine for young children to use every night. Families will be reading this book every night, and it will be an exciting time for parents and little ones in all households.
"The Bedtime Dance"
By Janelle Steuer
ISBN: 978-1-6657-0546-2 (softcover); 978-1-6657-0544-8 (hardcover); 978-1-6657-0545-5 (eBook)
Available at Archway Publishing, Amazon and Barnes & Noble
About the author
This is Janelle Steuer's first published children's book. It has always been a passion of hers to write her own book, and she was further inspired after having her daughter, Vivian. Steuer enjoys time with family and friends, traveling and rooting for the Green Bay Packers. She resides in Rhode Island with her husband, young daughter and two dogs. To learn more, please visit https://www.janellesteuer.com/.
General Inquiries:
LAVIDGE – Phoenix
Grace Connor
480-998-2600 x 534
gconnor@lavidge.com