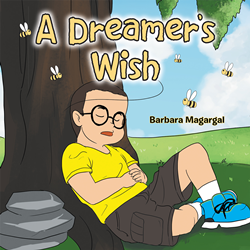 "As children venture out in the world, it is important for them to understand that people won't always be there, but their family will always be there for them," said Magargal. "I believe that it is best to be with your family."
EL CAJON, Calif. (PRWEB) February 17, 2020
Children's book author Barbara Magargal recently published "A Dreamer's Wish," a cautionary tale that follows Cody, a young man who ran away from home due to an argument that he had with his parents. A friendly bee offers to switch places with Cody, so he could explore the world. After some unexpected turns, Cody realizes how much he missed his family.
Magargal wrote "A Dreamer's Wish" to remind children that their choices have consequences. Noticing that kids do not have supervision as they used to as well as an increase in children arguing with their parents, Magargal hopes to inspire children to connect back with traditional family values and respect their parents.
"As children venture out in the world, it is important for them to understand that people won't always be there, but their family will always be there for them," said Magargal. "I believe that it is best to be with your family."
Children can relate to Cody's story as they may have found themselves frustrated with their parents in the past and felt like running away was the best option. However, "A Dreamer's Wish" highlights how loving parents will be there, no matter what.
"A Dreamer's Wish"
By Barbara Magargal
ISBN: 978-1-7960-5764-5 (softcover); 978-1-7960-5765-2 (hardcover); 978-1-7960-5763-8 (electronic)
Available at the Xlibris Online Bookstore, Amazon and Barnes & Noble.
About the author
Barbara Magargal is a landscape contractor who enjoys painting, writing poetry and writing books. Magargal, a mother, grandmother and great grandmother, wrote "A Dreamer's Wish" to remind children to cherish their roots at home. She currently resides in El Cajon, California.
For Interview Requests & Review Copies, Please Contact:
LAVIDGE – Phoenix
Krista Tillman
480-648-7560
ktillman@lavidge.com