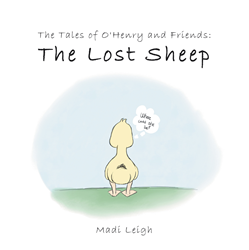 "I want readers, of any age, to understand the meaning of devoted love—not only receiving, it but also giving it," Leigh said, "I want them to learn that loving others doesn't have to be a one-size-fits-all situation. We shouldn't care for people as people, but as individuals."
SMITHVILLE, Mo. (PRWEB) February 06, 2023
A tale of animal friends working together to find a missing stuffed animal serves as a parallel for Jesus looking for followers who have strayed from his flock.
In "The Tale of O'Henry and Friends: The Lost Sheep," by Madi Leigh, readers are taken along on the hunt for a precious toy, named Stella the Sheep. O'Henry the Duck gets help from his friend, Billy the Butterfly, and they search together, while Billy questions O'Henry's devotion to Stella.
"I want readers, of any age, to understand the meaning of devoted love—not only receiving, it but also giving it," Leigh said, "I want them to learn that loving others doesn't have to be a one-size-fits-all situation. We shouldn't care for people as people, but as individuals."
While canvassing the field where he lives in search of Stella, O'Henry teaches Billy what it means to truly love all, no matter the shape or size. Even though O'Henry has other toys to play, with he will not rest until his lost toy is found. The story ends with this verse from the Gospel of Matthew that relates back to O'Henry's search, "Jesus once said, "If a man has a hundred sheep but one of the sheep gets lost, he will leave the other ninety-nine on the hill and go to look for the lost sheep."
"The Lost Sheep"
By Madi Leigh
ISBN: 9781665717342 (softcover); 9781665717335 (electronic)
Available at WestBow Press, Amazon and Barnes & Noble
About the author
Madi Leigh is the author of the short stories, "The Sweet Taste of Bitter Realization," "Time Will Tell," and "Cold Coffee." Upon graduating Full Sail University with a bachelor's in Creative Writing, she's reverted to a life full of words and coffee. She lives in the quaint town of Smithville, Mo., with her beloved family. To learn more, please visit https://www.westbowpress.com/en/bookstore/bookdetails/838710-the-tales-of-ohenry-and-friends.