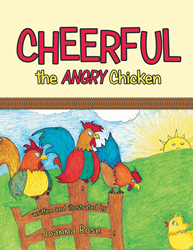 CHARLESTON, S.C. (PRWEB) April 01, 2019
In today's world, more and more young people are using their voice to create real change. Author Joanna Rose's new children's book, "Cheerful the Angry Chicken," teaches kids how to use emotions like frustration and anger for the greater good and demonstrates how standing up for what you believe in builds confidence and courage, leading to greater self-empowerment.
When Cheerful decides she wants to participate in the morning wakeup call with the roosters, she is bullied by the roosters who tell her to "go back to the barn…don't you realize that you're just a little chicken?".
Cheerful feels like she wants to explode but instead, she chooses to challenge the status quo. Cheerful's friends show their support and start a petition, asking the farm animals to support her request to participate in the morning wakeup call.
Soon the whole farm is cheering for Cheerful as she becomes the first little chicken to wake up the farm.
This experience awakens Cheerful to her own bigger dreams and she soon decides to leave the farm in pursuit of new adventures and possibilities for her future.
The manner in which Cheerful comes to believe in herself, her dreams and her future, and the way she stands up for herself is a lesson for young children in confidence and empowerment. "Cheerful believed she could serve in the same capacity as the roosters and be equally successful, and she was, proving that it pays to stand up for yourself and believe in your abilities, even when no one else does, and that sometimes, that requires challenging social norms and following your own path, without regard for what others may say or think," Rose said.
Rose has a passion for helping at-risk youth and is a long-time supporter and volunteer of two local children's non-profits, Reading Partners and Big Brothers Big Sisters of Charleston, to which she plans to donate a portion of her proceeds from the book. "I wanted 'Cheerful' to be a book that gives back, and I have seen first-hand how these two wonderful organizations serve an important role in enhancing and furthering the education and mentoring of young people," Rose said.
"Cheerful the Angry Chicken"
By Joanna Rose
ISBN: 9781480846821 (softcover); 9781480846807 (hardcover); 9781480846814 (electronic)
Available at the Archway Publishing Online Bookstore, Amazon and Barnes & Noble
About the author
Joanna Rose is a former U.S. diplomat who traveled the world with her daughter Hannah. Today she is an author, blogger, speaker, and certified coach who works with children, adults and organizations on issues related to improving relationships and emotional health. Rose also runs free community groups focusing on the power of intention at Bliss Spiritual Co-op. She lives in Charleston, South Carolina. For more information, visit CheerfultheAngryChicken.com or BuildBetterRelationships.org.
Contact:
LAVIDGE – Phoenix
Kalin Thomas
480-648-7540
kthomas(at)lavidge(dot)com