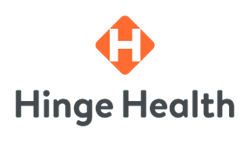 SAN FRANCISCO (PRWEB) January 15, 2019
Hinge Health, based in Silicon Valley, is the first digital health company to demonstrate that a mobile-first, at-home exercise therapy and behavioral coaching solution reduces chronic low back pain by 62%, reduces disability by 55%, improves daily life impact by 64%, and significantly reduces surgery interest. Participants that completed the digital care program had an average engagement each week of 90% and averaged 45.6 exercise therapy sessions.
In an analysis of 177 participants that completed the clinical trial intervention, published January 2019 in Nature journal Digital Medicine, the Hinge Health treatment group achieved 62% improvement in pain from baseline measured using the Visual Analog Scale (VAS) and 64% improvement in daily life compared to 3% and 9% improvement by the control group (P<0.01). The per protocol improvement in Oswestry Disability Index (ODI) was 31% for the Hinge Health treatment group compared to 4% for the control group (P< 0.001). Participants reported a decrease of 52% in average interest in surgery compared to an increase of 53% in the control group. The impact of Hinge Health shows promising results to mitigate the rising use of harmful opioids for coping with low back pain.
The study was a two-armed, randomized, control trial of participants with chronic non-specific low back pain. Participants were employees and their dependents at participating employers, across 12 locations in the US. Employees were highly diverse and included both office and service based roles such as data analysts, drivers, catering staff, and outdoor instructors. Participants randomized into the Hinge Health treatment group received a program consisting of sensor-guided exercise therapy, education articles, cognitive behavioral therapy, team discussions, activity tracking, symptom tracking, and 1-on-1 coaching, all from their home through a dedicated app on a complementary tablet computer.
Hinge Health CEO and co-founder Daniel Perez said, "Hinge Health is building the world's most patient-centered digital hospital – starting with musculoskeletal conditions. The findings from our two randomized control trials are strong validation of our approach to MSK care - combining the three pillars of best practice: exercise therapy, education, and behavioral health."
Hinge Health Chief Medical Officer, Dr. Jeffrey Krauss said, "Hinge Health is a rare digital health company to choose the higher hurdle of demonstrating statistically significant outcomes in a pre-registered randomized control trial. The Hinge Health results published in Nature journal Digital Medicine are unique because there are few digital programs with randomized control trials and even fewer with such significant findings."
About Chronic Back Pain
Lower back pain is the leading cause of disability throughout the world affecting 4 in 5 individuals in their lifetime. In the US, economic costs of back pain are the highest in the world, exceeding $100B per year due to surgery and drugs1,2. Current recommendations for management of chronic pain suggest that treatments addressing multiple aspects of pain, including physical, psychological, and social, are most effective and are recommended before relying on drugs, imaging, and surgery. However, most people living with chronic back pain do not receive adequate care, leading to unnecessary use of opioids and surgical procedures.
Hinge Health
Hinge Health is pioneering digital care programs for people with chronic musculoskeletal conditions such as back or joint pain. Our market-leading technology creates a delightful participant experience by combining sensor-guided exercise therapy with health coaching and education. Hinge Health is available to over 1 million members and is the #1 digital chronic musculoskeletal solution for employers and health plans. Founded by Oxford and Cambridge scientists, we've empowered thousands to conquer chronic pain, avoid unnecessary surgeries, and liberate them to do the things they love. Learn more at http://www.hingehealth.com.
Media Contact
Sarah Lasker
media(at)hingehealth(dot)com
855-902-2777
Reference:
1) Rubin, D. I. Epidemiology and risk factors for spine pain. Neurol. Clin. 25, 353–371 (2007).
2) Andersson, G. B. Epidemiological features of chronic low-back pain. Lancet 354, 581–585 (1999).