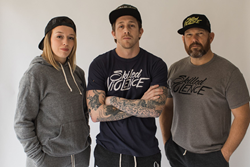 All disciplines are so much more than luck and chance – they are about skill.
DALLAS (PRWEB) January 18, 2021
Skilled Violence, a lifestyle apparel brand, has announced that is now taking online orders. Their first winter collection includes hoodies, joggers, shirts and snap back trucker hats that are both very stylish, comfortable and come at an affordable price. The unique clothing brand has a thriving Instagram community that includes mixed martial arts practitioners including MMA fighters, professional Jiu-Jitsu athletes, military enthusiasts, gun collectors and everything in between.
The online store is based in Dallas, Texas will soon be launching their sponsorship program which will show representation from high level practitioners in various combat disciplines that embody the philosophy of the lifestyle brand, Skilled Violence. Skilled Violence is defined as the practice of an ability that is powerful in nature and acquired through expert teaching that is ultimately exhibited with force, precision and high efficiency.
Skilled Violence's collection consists of comfortable, laid back clothing designed for everyday wear for individuals from all walks of life. The new collections include many variations of each item, all which are unisex.
Asked about the new collection, the founder of Skilled Violence, Michael Smith, said, "We are thrilled to finally launch our vision for a clothing brand that honors those of us who show up day after day to perfect our skill set – all disciplines are so much more than luck and chance – they are about skill. That's what we are here to stand for – putting in the work and time to display expertise."
Full details can be found on the Skilled Violence website: skilledviolence.com