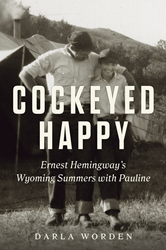 Craig Johnson, Wyoming author of the Walt Longmire series, calls the new book "streamlined and impacting … a compelling account."
DENVER (PRWEB) August 24, 2021
In July 1928, Ernest Hemingway escaped to Wyoming's Bighorn Mountains to write while his new, second wife – stylish Vogue editor and "other woman" Pauline Pfeiffer – recovered from the difficult birth of their first child. Hemingway fell in love with the rugged land, carefully tallying fish caught even as he spent long days finishing "A Farewell to Arms." Soon Pauline joined him, and the Cowboy State became "their place." In "Cockeyed Happy: Ernest Hemingway's Wyoming Summers with Pauline," due out from Chicago Review Press in September 2021, Darla Worden delves into the little-known story of six summers between 1928 and 1939 that trace the arc of the couple's marriage through some of Hemingway's most successful writing years.
"Cockeyed Happy" has received multiple advance accolades. Craig Johnson, Wyoming author of the Walt Longmire series, calls the new book "streamlined and impacting … a compelling account," and Steve Paul, author of "Hemingway at Eighteen," writes that the new book "portrays not only a marriage but also a landscape rarely examined in [Hemingway's] life and work."
Worden will kick off the publication of her new book with Wyoming events, beginning August 29, 2021, at the Brinton Museum in Big Horn, Wyoming, and continuing to two Jackson Hole book signings, at the Western Design Conference Exhibit + Sale on September 10 and at the Valley Bookstore on September 11. Additional upcoming stops on the tour include a Denver launch party and a New York City event, with tour details on the Events page of the author's website.
After the phenomenal success of Ernest Hemingway's "The Sun Also Rises," Ernest and Pauline returned from Paris to the U.S. in March 1928 amidst the gossip surrounding the American author's affair with Pauline and subsequent divorce from Hadley, his first wife. Wyoming, with its famously wide-open spaces and only intermittent opportunities to communicate with the outside world, offered the newlyweds a special kind of respite and their time spent riding, fishing and hunting in and around Sheridan, Jackson Hole and Yellowstone National Park quickly became one of their preferred getaways.
As chronicled by Worden in "Cockeyed Happy" (the phrase was a favorite riff of Hemingway's on the 1920s slang word "cockeyed" for "crazy"), the couple's time in the state encompassed a host of adventures, from bear hunting to car crashes, serene days spent midstream in waders to bootleg liquor-fueled dude ranch parties. Through it all, Hemingway writes – novels, short stories, a play, a nonfiction book and numerous letters to friends and his editor, Max Perkins, detailing his and Pauline's escapades. Each of the six summers shows Hemingway in a different place in his writing, as well as a different stage of their marriage – from smitten newlywed to bored, restless husband and ultimately to philanderer as he falls in love with another woman once again.
Wyoming native Darla Worden lives in Denver, Colorado, where she is editor in chief of Mountain Living magazine. Worden also is founder and director of the Left Bank Writers Retreat in Paris and a journalist known for articles about art, architecture, travel and the West. Her quest to uncover the story of Hemingway's time in Wyoming was first sparked when she learned the author had actually spent a summer in her hometown of Sheridan and nearby Big Horn, Wyoming. For additional information about the upcoming publication of "Cockeyed Happy" and Worden's related book events as well as a sign-up for her Cockeyed Happy newsletter, visit darlaworden.com.
Media contact: Anne McGregor Parsons, anne@wordprmarketing.com, 303.548.4611