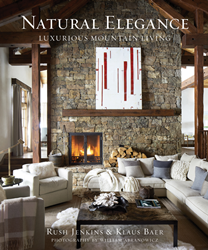 "We're thrilled that the book will allow us to share our work with a broader audience in this fresh way," says WRJ Design owner and CEO Rush Jenkins.
JACKSON HOLE, Wyo. (PRWEB) August 20, 2019
The first book from the award-winning WRJ Design duo of Rush Jenkins and Klaus Baer, "Natural Elegance: Luxurious Mountain Living" (Vendome), will be released this September, showcasing the Jackson Hole firm's signature sophisticated alpine style. The stunningly visual new coffee-table book, filled with some 250 photos by renowned photographer William Abranowicz, features 12 WRJ-designed homes set against the dramatic backdrops of some of the most breathtaking Western landscapes from the Rockies to the Pacific, including the firm's award-winning Jackson, Wyoming, work.
WRJ Design's longtime tagline – "Inspired by the natural world. Informed by the rest of it." – gets at the heart of the firm's aesthetic. Known for taking cues in color, texture, material and form from the glorious scenery that surrounds its projects, the designers also curate unique, artisanal and antique pieces from their world travels, resulting in clean-lined, thoughtful and luxurious choices that work in tandem with the environment.
"We're thrilled that the book will allow us to share our work with a broader audience in this fresh way – especially as seen through Bill Abranowicz's remarkable eye in the photos," say WRJ owner and CEO Rush Jenkins. His partner and COO Klaus Baer agrees: "Creating 'Natural Elegance' was a labor of love for us – and we're so appreciative of our clients who opened their homes to help make it possible."
Projects featured in the new book include an ultra-contemporary house designed in collaboration with BCJ Architects that hovers over its craggy Jackson Hole terrain. Minimalist furnishings underscore the home's floor-to-ceiling glass walls that maximize the view of the Tetons beyond. For interiors in a Big Sky, Montana, home designed with JLF Architects, WRJ's choice of rich leathers and modern furnishings play off rough-hewn reclaimed wood and stacked stone for a comfortably elegant take on rustic mountain style.
Sharing a deep love of the West, Jenkins and Baer relocated their interior and exhibition design business in 2010 to Jackson Hole from Manhattan, where Jenkins had founded it in 2003 after a career as director of design for Sotheby's New York. In that role, Jenkins created exhibitions for the collections of legendary names from Laurance Rockefeller to Katharine Hepburn, while Baer pursued a successful banking career before earning a graduate degree in interior design from Parsons School of Design.
Since then, the firm has grown from three to 17 employees and is now recognized as a top design house in the Rocky Mountain West. Turning to their ever-changing, spectacular Jackson Hole surroundings, featuring arguably the most magnificent natural landscapes in the U.S., Jenkins, Baer and their growing team incorporate the harmony, balance and serenity of the outdoors into their interior spaces.
Published by Vendome, the 256-page "Natural Elegance" is filled with atmospheric images from photographer Abranowicz, whose work appears in collections throughout the world including the Metropolitan Museum of Art and the Smithsonian.
To launch the new title, Jenkins and Baer will present the book at a national series of events, signings and parties, including Jenkins presenting a keynote at the prestigious San Francisco Fall Art & Antiques show. The duo will also introduce the book at scheduled engagements at design centers in New York City, Atlanta and Los Angeles. At home in Jackson Hole, the book will launch with two public book signings at the Western Design Conference Exhibit + Sale on September 6 and 7.
About WRJ Design:
Headquartered in Jackson, Wyoming, WRJ Design imparts the special serenity of its local Teton landscape to interior designs in Jackson Hole and across the country. Begun out of a passion for great design by Rush Jenkins and Klaus Baer, WRJ creates experiences and environments through its designs that provide timeless reflections of homeowners and their collections, combining the work of regional artisans with finely crafted European furnishings and accessories, and historically rich one-of-a-kind pieces curated from around the world. WRJ Design has been awarded the Home of the Year by Mountain Living in both 2016 and 2018. In Fall of 2019, "Natural Elegance" will be published, and features from the upcoming book will appear in Luxe, Traditional Home, House Beautiful and other national publications. For more information visit wrjdesign.com.