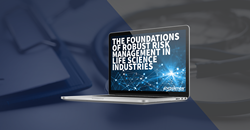 LEXINGTON, Mass. (PRWEB) March 19, 2019
Cognition® Corporation, a software company specializing in medical device compliance and commercialization, has just released a new ebook discussing foundational aspects of risk management in life sciences.
Risk management is a vital part of the compliance process for getting life science products to market. FDA and other regulatory agencies are more concerned than ever about safety and effectiveness when reviewing premarket submissions. This is reflected in updated guidance documents, regulations, and international standards affecting the marketplace today.
"The regulatory case for risk management is more important and visible than ever before," says David Cronin, CEO of Cognition Corporation. "Because of this, it's necessary for life science organizations to be well-informed about what compliance with regulatory expectations looks like, and how to go about setting up a strong risk management program within their development processes."
Cognition's new ebook discusses the basics of FDA's case for risk management, as well as foundational approaches to managing risk with a modern approach. It also details what tools and strategies firms can take to support strong risk management plans in their organization.
"There's a lot that comes into play when it comes to managing the risks of any life science product," says Mr. Cronin. "Many different factors influence how an organization approaches the hazards, hazardous situations, and harms related to their products—as well as any resulting controls and mitigations. While we can't speak to all of these concerns in this white paper, we wanted to offer a basic resource for firms trying to baseline their risk management efforts."
The ebook also touches on common hurdles, challenges, and misconceptions that can drag risk management programs down and negatively impact project timelines. By offering clarification on these issues—as well as forward-facing approaches to managing modern and future life science risks—Cognition hopes to facilitate discussion and thought with this paper.
"All in all, I think life science professionals who read this paper will learn a lot," says Mr. Cronin, "particularly when it comes to evaluating their current risk management programs. We hope it helps them take a better look at existing competencies and capacities, and maybe sparks initiatives to support further development and organizational growth."
The ebook is available for download here.
Cognition Corporation, based in Lexington, Massachusetts, has offered solutions for product development compliance for more than fifteen years. Cognition offers the Cognition Cockpit® Platform, along with engineering and validation support, and industry expertise. Thousands of users worldwide use Cognition solutions to manage their product development process and meet regulatory, performance, and-time to-market goals. For more information, visit http://www.cognition.us or call (781) 271-9300.