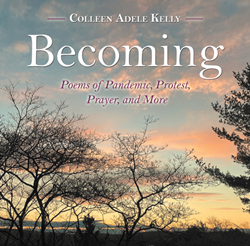 "At the beginning of the pandemic, I decided to write poems on the emotions I was feeling during these times of uncertainty. Each poem has a conversational tone to current events and is dedicated to a variety of different things in my life and the world around me."
SOUTHBURY, Conn. (PRWEB) September 27, 2021
Since December 2019, society has been living in a tumultuous time in history. In Colleen Adele Kelly's newly released book, she pens poems reflecting on the rollercoaster of emotions and circumstances the United States has endured through each challenge.
In "Becoming: Poems of Pandemic, Protest, Prayer, and More," Kelly's poems lyrically detail the protests, seasons and prayer, the pandemic, elections and resurgence of hope. The collection is broken up into 6 sections dedicated to different topics or events that are relevant in today's society. Each poem is the author's observation of each occurrence she went through along with her community.
"I have been writing poetry ever since I was a young woman," said Kelly. "At the beginning of the pandemic, I decided to write poems on the emotions I was feeling during these times of uncertainty. Each poem has a conversational tone to current events and is dedicated to a variety of different things in my life and the world around me."
The collection is dedicated to all those throughout the world whose lives have been affected by the Covid-19 pandemic, racial protests and the pursuit of human rights.
Ultimately, "Becoming" shares poems that address the challenges faced over the years and provide insight on prayer and seasonal topics. The collection will connect with readers interested in these topics or who have experienced the emotions endured the past few years.
"Becoming: Poems of Pandemic, Protest, Prayer, and More"
By Colleen Adele Kelly
ISBN: 978-1-6657-0775-6 (softcover); 978-1-6657-0776-3 (hardcover); 978-1-6657-0774-9 (eBook)
Available at Archway Publishing, Amazon and Barnes & Noble
About the author
Colleen Adele Kelly, Ph.D., is a retired educator of Asian and international studies and comparative education who taught in Fairfield and New Britain, Connecticut. She has used her time in retirement to indulge a lifelong attraction to hearing and seeing events in verse. Her experiences in travel and teaching inform what she writes. "Becoming" is her sixth collection of poems. She maintains a poetry blog at http://www.colleenakelly.com.
General Inquiries:
LAVIDGE – Phoenix
Grace Connor
480-998-2600 x 534
gconnor@lavidge.com