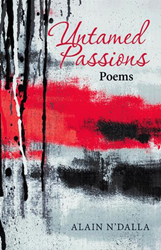 KINGSTON, Jamaica (PRWEB) November 20, 2019
Alain N'Dalla's debut book, "Untamed Passions: Poems" (published by iUniverse), is a collection of poetry in sonnet and free-verse form, based on both fiction and disjointed personal experiences of the author.
"Untamed Passions" explores the author's complex thoughts, tumult, and tantrums evoked by abstract concepts. N'Dalla also discloses his nostalgic tribulations with women and his fledgling relationships, unleashing his raw emotions and deep contemplations. Themes of love, betrayal, reflection, resilience, and death are addressed with bluntness and courage.
N'Dalla says, "Victories and strengths are common products of painful experiences. Such circumstances should serve to refine you and not define you. This is the deeper meaning of my book that I hope will resonate with my readers."
The book is available for purchase at: https://www.amazon.com/Untamed-Passions-Poems-Alain-N'dalla/dp/153208191X.
"Untamed Passions"
By Alain N'Dalla
Softcover | 5.5 x 8.5 in | 66 pages | ISBN 9781532081910
E-Book | 66 pages | ISBN 9781532081927
Available at Amazon and Barnes & Noble
About the Author
Alain N'Dalla is a committed Christian, digital forensic professional, and a Jamaican writer, strongly influenced by the literary work of Edgar Allan Poe and poetry of the late 18th and early 19th centuries. "Untamed Passions" is his debut poetry collection. N'Dalla has a Bachelor of Science in computer science from the University of the West Indies, Mona, Jamaica, and is currently pursuing further studies in the field of digital forensics and cybercrime investigation.