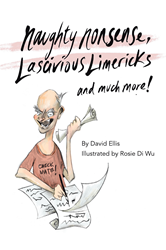 "Throughout the collection, the main themes are faults and failures; there is a non-judgmental, tolerant and amused attitude to the many human idiosyncrasies that are portrayed."
SYDNEY (PRWEB) April 12, 2021
David Ellis has always been a massive fan of British humor. In his debut collection of poetry, he provides comedic five-lined poems that are influenced by this form of wit. Readers are invited to be amused by the odd ways of the characters portrayed, to feel sympathy for their mishaps and will be shocked by their shenanigans.
Throughout the book, Ellis provides rhythmic stories dedicated to bawdy humor. He introduces a wide variety of characters such as the proud, the greedy, the unfaithful, the cheat, among more. Ellis also offers more gentle humor of the later lengthier works set in the United Kingdom and Australia, where he pays homage to his personal experience living in these two places. He additionally includes prose inspired by his time running a chess club.
"My new book, 'Naughty Nonsense, Lascivious Limericks and Much More,' provides a wide-ranging scope with a large variety of subject material and presentations," said Ellis. "Throughout the collection, the main themes are faults and failures; there is a non-judgmental, tolerant and amused attitude to the many human idiosyncrasies that are portrayed."
Ultimately, readers will see Ellis's love for British humor and how the poems are accompanied with hysterical illustrations leaving them very entertained.
"Naughty Nonsense, Lascivious Limericks and Much More"
By David Ellis
ISBN: 978-1-6641-0092-3 (softcover); 978-1-6641-0401-3 (hardcover); 978-1-6641-0091-6 (eBook)
Available at Xlibris AU, Amazon and Barnes & Noble
About the author
David Ellis has from an early age been a fan of British comedians, and their influence can be seen in this varied selection of his comic verses of over fifty years. He worked as an English teacher in England, where he sought to encourage creative writing and an appreciation of literature, including poetry. Well known in the United Kingdom and Australia as a Chess player, he has been West of England, Cornish, Kent and three times West Australian champion. Ellis has competed in several Australian Open and Closed Championships with a best result equal 3rd. He has also regularly coached young players, including a to-be British Champion. He has been a Chess columnist for the West Australian newspaper for more than 24 years. In 2001 received the Australian Chess Federation Medal for outstanding work as a chess correspondent, the year after receiving the Queen's Australian Sports Medal. Ellis plays piano and has been in demand as an accompanist - in collaboration with a junior choir. He recorded a 45EP and years later recorded two CDs with a soprano, Willemina Foeken. He is a father to two children. His son is a champion Ultra-Marathon runner, while his daughter has competed in several Triathlons and successfully represents Western Australia in both the Girls and Women's Chess teams.
General Inquiries:
LAVIDGE – Phoenix
480-998-2600
gbywater(at)lavidge(dot)com