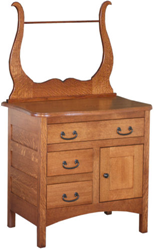 The Granny Mission Amish Three Drawer Commode will add a touch of nostalgia to any home. It also will make a great conversation piece!
SHIPSHEWANA, Ind. (PRWEB) January 20, 2019
In the genre of furniture that conjures memories of different places and/or time periods comes the Granny Mission Amish Three Drawer Commode. The unit from Weaver Furniture Sales in Shipshewana, Indiana, is reminiscent of commodes that existed in France, England and the US before the era of running water.
The Amish designers and builders of the commode included the key elements of commodes of an era passed. These features include a towel bar and a large, flat countertop – on which a washbasin and water jug were placed. Like the commodes of the 18th century, the Granny Mission commode has drawers and a door. However, this 21st century commode is not equipped with a chamber pot behind the door! A commode with a mirror and small towel rack is optional.
The Granny Mission Amish Three Drawer Commode will add a touch of nostalgia to any home. It also will make a great conversation piece. The commode will work superbly as an extra vanity in a master bedroom or guest room. Also, the harp-shaped towel bar is an ideal spot for placing a nice towel or displaying craft work.
As with most pieces offered by Weaver, the Granny Mission Amish Three Drawer Commode has some noteworthy convenience and reliability features. For example, all three drawers open full extension. So users can enjoy easy access to every corner of each drawer. Also, the Amish cabinetmakers constructed the upright joints of each drawer with dovetail joints. These joints are renown for strength and durability.
The commode's Amish cabinetmakers are among the best in the Midwest. Also, they use quality regional hardwoods, such as oak, maple, cherry and hickory. Their Amish furniture builders also integrate tried-and-proven skills handed down from their ancestors. As a result, the commode is incredibly sturdy and durable. In fact, with proper care, it will easily become a family heirloom.
Customers can order the commode as shown. Or, they can request custom features like the wood specie, wood stain and type of hardware. Also, the Granny Mission Amish Three Drawer Commode can be ordered using the Weaver website at http://www.weaverfurnituresales.com. Or, shoppers can visit Weaver's 'brick and mortar' store in Shipshewana, Indiana. The large Weaver Furniture showroom is located 1/4 mile south and 1/4 mile east of the junction of State Road 5 and US 20 in Shipshewana, Indiana.
Weaver Furniture Sales is open daily from 9 a.m. to 5 p.m. and 9 a.m. to 4 p.m. on Saturday. The store is closed Sunday. For more information, visit Weaver Furniture Sales website. Or call 260-768-7730.
About Weaver Furniture Sales
Weaver Furniture Sales was established in 1989 in Shipshewana, Indiana. An Amish, family-owned furniture business, Weaver offers a full line of solid wood, Amish furniture at affordable prices. And Weavers caters to both residential and commercial customers. The company features Shaker, Mission and Traditional furniture styles. As part of their client services, Weavers provides furniture design consultation services, custom furniture options, furniture quotes, layaway options and various delivery alternatives for residences and businesses in the United States.
LeRoy and Ida Weaver own and operate Weaver Furniture Sales. They began with a 1,500 square foot showroom, which has been expanded to more than 20,000 square feet. Previously, they owned and managed LeWana Dairy Farm, where they milked cows and raised corn and hay.