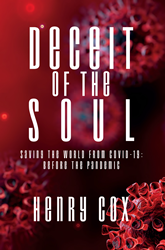 There is always a "Story Behind the Story."
DALLAS (PRWEB) June 08, 2020
There is always a story behind the story––a story that is never told––the truths the economic elite, politicians, intelligence ranks, and even the media never want you to know.
"DECEIT OF THE SOUL: Saving the World from COVID-19 Before the Pandemic" by legal expert and first-time author, Henry Cox, is a prophetic story that was written before the breaking news stories where the reader doesn't know when it's fact or fiction. A fast-paced conspiracy thriller that examines the origin of the COVID-19 pandemic, and ironically mirrors our present day world crisis.
Inspired by real-time news coverage, Cox began to question the who, what, why and where the pandemic derived. It was clear that real people took real actions that led to the pandemic. He knew there were obvious questions intentionally not being asked, inconsistent answers to the ones that were, various opinions and predetermined objectives (politics), and an attempt to problem solve the matter with already accessible information.
As a successful litigator, Cox has written hundreds of non-fiction stories for the courtroom to expose and unravel the drama and comedy of human events. He says, "There's always a 'story behind the story' that is often the most meaningful and never told or brought to the surface."
Now he unravels what might be the real story behind COVID -19 in DECEIT OF THE SOUL, an intense work of fiction that features compelling characters with vivid imagery. A story that follows both Colonel Li Huiwei, an officer of the People's Republic of China and asset to her country since childhood, who discovers that plans are in motion to devastate the world and she must team up with former colleagues to save the world from a potential global pandemic; and Aiguo-Tao, a chief logistics officer from the Wuhan Institute of Virology, who awaits his next brutal interrogation for the crime of treason. He escapes before he is killed and proceeds with his deadly plan. A drama that feels both realistic and terrifying at once.
For Colonel Huiwei the story never ends.
Her intellect was always Huiwei's blessing and curse since she was a young girl taken from her family. A Colonel in the People's Republic Air Force and an expert in statistical modeling, she stumbles on the information to potentially bring the Global economies to their knees. It was her plan, one she never intended, and one she cannot stop.
Time is running out, she knows the odds, she made them. In a world where trust is a limited commodity, can her former colleagues from M.I.T, and a Royal Air Force Commander, save her from herself, and the World from the worst possible outcome of a Global pandemic.
"In the end, people inherently create their own sense of truths," says Cox. "Then, they engage in a type of cognitive dissonance to use facts to reinforce their own view of the truth and to discredit other facts that do not fit within their paradigm." Further adding, "At what point do people unravel the identity thrust upon them and discover the 'deceit of the soul' finding the inner strength to act on the actual truths revealed, to choose a path when there are no good choices?"
To learn more, visit: http://www.henry-cox.com
Books are available online
About the Author
Henry R. Cox has been a successful litigator for 40 years, litigating hundreds of cases nationwide that expose and unravel the drama and comedy of human events. After decades of writing hundreds of non-fiction short stories for the courtroom, he brings his colorful style to fiction that reveals the intrigue and humor of the human condition.
"Whether it's a jury trial or helping people resolve life changing conflicts, there's always a 'story behind the story' that is often the most meaningful and never told or brought to the surface," says Cox. "If you want to know how people from different backgrounds and interests talk and deal with life's conflicts, read hundreds of thousands of pages of deposition testimony, then condense it down to relevant points for a Federal judge or jury."
He found success blazing his own path in life. Whether it was being the shortest NCAA Division I hurdler on a Nationally ranked track team or becoming the first 'big firm' attorney to pursue complex civil rights cases against Fortune 100 companies. A prolific legal educator, he was selected to the National Academy of Distinguished Neutrals, Super-Lawyers of Kansas and Missouri, Martindale-Hubbell AV rating for twenty-five years, and is only one of six attorneys selected to The Best of the Bar in Kansas City for fifteen years. He lives with his wife in Shawnee, Kansas.
# # #