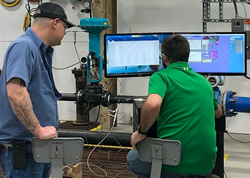 BROKEN ARROW, Okla. (PRWEB) March 12, 2020
Total Valve Systems is offering a comprehensive new control valve management system built to make life easier for their control valve customers. The system integrates a range of services designed to maximize the efficiency, reliability, and return on investment of control valves.
Control valves rely on electrical, hydraulic, or pneumatic actuators to ensure a valve attains a specified degree of opening. The control valve management system from Total Valve combines valve sizing software, system analytics, live monitoring, valve diagnostics, maintenance services, and reliability reports.
Control Valve Management Solutions Features
AttenuSize™ Applies industry-standard ISA sizing equations, among other measures, to assist in sizing and specifying valves.
System Analytics Analyses are performed and documented for various control valves. This information is a coupled with a parametric analysis to understand the various operating conditions of the processes over a range of conditions.
Total Valve Live™ Real-time monitoring of process conditions. On-site walkdowns and evaluations to address valve and process concerns that contribute to sub-par valve performance.
Triton™ Diagnostics External system benchmarks valve performance and controlling parameters. Operates independent of valve positioners to provide an accurate assessment.
Maintenance Services Technicians certified through Total Valve's Star Program provide skilled repairs, support, and recommendations. On-site engineering provides thorough evaluations of valve performance in our very own Flow Lab.
Valve Reliability Reports Valve reliability reports encompass both the repair and process information gathered on the valve. These reports drive reliability excellence through improvements to valve maintenance, process operations, valve sizing and technical history.
Total Valve Systems services all types and brands of valves. The company is an authorized distributor of Farris Curtiss-Wright and is part of the Farris Authorized Service Network (FAST).
Relevant Links
Web: http://www.totalvalve.com
Linked In: https://www.linkedin.com/company/total-valve-systems
Facebook: https://www.facebook.com/TotalValve/
Service Description Sheet: http://www.totalvalve.com/docs/Control-Valve-Management-System-Sheet.pdf
Youtube: https://www.youtube.com/watch?v=ACtaeqsZ1Hk
#IndustrialValves #ControlValves #IndustrialValveRepair
About Total Valve Systems
Total Valve Systems is an engineering company that sells, services and tests valves of all types for customers around the globe. The company's engineered products division is ISO 9001:2015 certified. Other certifications include: VR, UV, and Certificate of Authorization from The National Board of Boiler and Pressure Vessels.
For additional information, please contact:
Alex Lybarger, Applications Engineer
Direct: 918-258-7035
Mobile: 918-978-5756
Alybarger@totalvalve.com
Total Valve Systems
1300 East Memphis | Broken Arrow, OK 74012
(918) 258-7035 | TotalValve.com