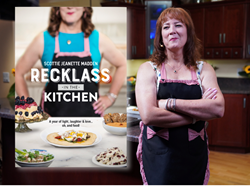 "I just didn't really know I was documenting the last year of our marriage... until it was."
LOS ANGELES (PRWEB) October 07, 2019
Theirs was the storybook marriage chronicled in two amazon bestselling memoirs, "Getting Back To Me" from girl to boy to woman in just fifty years, and "Just Because My Husband's a Woman..." Marcy's side of the story, that inspired an international audience to seek, nurture and "hold onto love as a handrail," as they faced Marcy's ovarian cancer and Scottie Jeanette's transition from "alpha dog" to Marcy's wife. They were candid, raw and articulate as together they each laid breadcrumbs for others to follow with light, laughter and love.
"Love," as Scottie Jeanette writes, "is the most important ingredient - and the specific flavor of that love as you hold someone in your heart while you cook for them, makes that dish particularly special." With this as the central core of the Madden home, Scottie Jeanette describes their home "Recklass Kitchen" (a philosophy, strategy, and religion all rolled into one) through a year of dinner parties & holiday celebrations (with unique spins on both classic and inventive recipes) from the home of one of the greatest love stories ever lived.
Mrs. Madden lays it all out in 13 months of menus and recipes that run from elegant holiday treats and dinners to backyard bar-b-ques and everything in between with humor, warmth and the accompanying pathos of life and family.
"I didn't intent to break every rule of cookbooks as I described a year in our Recklass Kitchen," confesses Scottie Jeanette, "but...home cooking is not like the Food Channel - it doesn't happen in a vacuum. Life happens. Your septic tank backs up when you have 20 guests coming for a formal sit-down Christmas Eve dinner, your dog gets skunked while your dough is rising, and holiday meals are sometimes interrupted by trips to the ER... so, I had to include that - reality doesn't stop just because it's time to bake a cake."
With layout and design by one of LA's top graphic design companies, The Refinery, and sumptuous food photography by Mena Kerry Kehoe, Recklass in the Kitchen is a gorgeous book that will be treasured for generations, but like most of Scottie Jeanette's SoCali-inspired cuisine, beware, it packs a spicy emotional wallop: "A cookbook is a surprisingly accurate journal of the flow of life, the ups and downs that all couples face, the sugar where it's needed, the spice. For over thirty years I've been cooking for My love and our friends, it was finally time to write it all down. I just didn't really know I was documenting the last year of our marriage... until it was."
The "published date" of October 6th is intentional, it is the one-year anniversary of the passing of Marcy M. Madden. A beautiful and fitting tribute to her life and legacy, and a fulfillment of one of her last wishes to her beloved Scottie Jeanette, to "keep Zuzubean going."
Zuzubean Press http://www.zuzubean.com - is an independent publisher of material that engages, entertains, illumines and inspires, based in Los Angeles. Contact: Scottie Jeanette Madden 818.489.4341 info@zuzubean.com